8 October 2022: Across the Atlantic: Literary Migration, Mobilities and Conversations: A report from the field by Sofia Baliño (UNIGE)
From the role of international copyright laws in shaping the trans-Atlantic book trade to the legacy of multilingualism in America, literary history holds many lessons, and more than a few surprises. The CUSO workshop "Across the Atlantic: Literary Migration, Mobilities and Conversations," organized by Prof. Dr. Julia Straub of the University of Fribourg and Dr. Enit Steiner of the University of Lausanne, brought together doctoral students, post-doctoral researchers, and professors for a Saturday afternoon devoted to unpacking some of these lessons and exploring from a new lens the linkages between and within these literary communities and conversations.

The workshop got underway with a presentation by Professor Annika Bautz of the University of Plymouth, who took us to the world of nineteenth-century book publishing in the United States and Britain. The uneven uptake of international copyright laws had a powerful impact on the trans-Atlantic literary marketplace, she showed us, explaining how books originally written in Britain were able to gain a broad readership in the United States due to the latter country's lag in joining international copyright treaties. This was not always to the financial benefit of British authors, who rarely took part in negotiating publishing contracts. Meanwhile, books by American authors often struggled to make their way into the British market, with the exception of well-known authors. For those British authors that were savvy about how to use the system in their favor, the result could mean significant profits and an even greater stature in America. A notable example of this was Edward Bulwer-Lytton, a novelist, playwright, and poet, whose shrewd business capabilities and immense popularity enabled him to establish a relationship with Harper & Brothers publishers that was not only lucrative, but famously long-lasting.

Bulwer-Lytton was an author whose novels at the time outsold Charles Dickens, and Prof. Bautz showed us how the Harpers were willing to give him hefty remuneration in exchange for being his publisher in America, despite the risk that they might not be the first to bring his books into print there due to the precarities of shipping these texts across the Atlantic. To make the most of their expensive arrangement, the Harpers found other ways to draw attention to their special relationship with Bulwer-Lytton. These ways included printing high-quality editions of Bulwer-Lytton's works, influencing book reviews to further position him as an innovator and natural successor to Sir Walter Scott, and publishing cover-page features in their magazine.

After a group discussion on topics such as how literary canons are influenced by their publishing contexts, we then undertook a close reading of Scott's "The Highland Widow." That text was chosen given how Scott changed the perception of the novel in his time, namely through his innovations in the genre of historical fiction, and how our understanding of the trends that defined that era may not reflect who was actually popular at that time. That period may now be known to us as "the age of Wordsworth" or "the age of Blake," but in those years, it was "the age of Scott," Prof. Bautz explained. Also notable about Scott's "The Highland Widow," especially given our workshop's theme, was how popular he was in the antebellum American South – much to the derision of the likes of Mark Twain, who blamed Scott for many of that region's problems.

The second presentation of the workshop came from Professor Leonard von Morzé of the University of Massachusetts Boston, whose examination of multilingualism in America encouraged us to reconsider any assumptions we may have had about American literature having a monolingual history. Doing so, he explained, could also lead us to exciting new discoveries. While the subject of multilingualism drew extensive interest in North American scholarship in the early 1990s, it fell out of fashion not long thereafter – but the vast reams of examples of non-anglophone printing in the nineteenth-century United States indicate that there is still much left to explore. For instance, examining America's history of multilingualism can help us rethink how we understand the role of translation in that time, as well as the emergence of a national literary culture in America.

To help us grasp what this multilingualism looked like in practice, Prof. von Morzé showed us the role that the German language in America played in anglophone society in the nineteenth century. This led to a close reading of Charles Brockden Brown's "Memoirs of Carwin the Biloquist," a text that explores ventriloquism, language, and speech. As we read the text, Prof. von Morzé asked us to consider how our understanding of anglophone American literature may be the result of a culture of translation that both helps ensure that languages are not lost, while at the same time putting such languages in a lesser position. For further context on multilingualism in America in those years, Prof. von Morzé gave the example of how a Robinson Crusoe translation played a defining role in an 1816 court case, where lawyers had to bring in linguists as expert witnesses in the English-language proceedings. In that case, participants debated at length the meaning of a German phrase in a legal agreement, turning to the German translation of Daniel Defoe's famous work to see how that phrase was used elsewhere.

As the afternoon drew to a close, it was clear that these conversations had sparked new ideas and excitement among our community, many of whom had come to the event from other fields of literary scholarship and wanted to broaden their horizons. The workshop was an enriching experience that, through its very design, bridged communities of literary scholars across the Atlantic to form new connections, reconsider what we thought we knew, and begin to imagine a new understanding of literary history.
23 September 2022: CUSO Workshop: "Styling the Present: Literature and the Contemporary" A report by Jole Fontanesi, University of Fribourg.
The CUSO workshop "Styling the Present: Literature and the Contemporary", organised by Dr Niklas Fisher (UNIFR) and Jole Fontanesi (UNIFR), took place at the University of Fribourg on Friday, September 23rd. The event attracted doctoral students, MA students and professors from the Universities of Lausanne, Geneva, Fribourg, Zurich and Bern and focused on the difficulties of describing and defining stylistic trends and genres in our contemporary reality.

The event started with Dr Niklas Fisher introducing the program and the keynote speaker for the day. Fisher then gave the participant time to introduce themselves and briefly present their research and areas of interest. Many of the doctoral students present had either concrete research projects on contemporary literature or were eager to deepen their knowledge of this topic.

After these preliminary introductions, Dr Fisher officially started the workshop with a presentation titled "The Internet Novel: An Update". In this talk, Fisher tried to shed light on why fiction still has a hard time dealing with the topic of the Internet and offered a theoretical framework for thinking about this new literary 'genre'. Too often, we make the mistake of thinking this new 'genre' must be technologically mimetic, forgetting that the Internet Novel is also and foremost about what it's like to be online. Investigating the Internet Novel then becomes a question of how to represent this experience in writing. This, in turn, means looking back at the modernist period and the innovation brought about by new technology, which provides a paradigm for thinking about current representations of what it is to be a human online. The techniques employed by authors are thus similar to those of modernist writers and revolve around fragmentation, defamiliarisation of language, or saturation.

After a coffee break, Dr Victor Lindblom presented his doctoral research on current theories of fictionality and their application in literary analysis in a presentation titled "Fiction and Nonfiction, Autofiction and Autobiography – Some Suggestions on Where and How to Draw the Lines". Dr Lindblom started his talk by giving us some definitions of fictional and nonfictional utterances, narratives and works. He then went on to delineate a method that can be applied in the practice of literary studies to analyse the fictionality status of narrative literary works in a systematic way. To do so, he applied this method to Max Frisch's Montauk and Lukas Bärfuss' Koala, two works whose fictional status is disputed, thus creating a framework for analysis of fictionality in the practice of literary studies.

After a well-deserved lunch, the workshop continued with Professor Peter Boxall's (University of Sussex presentation, "Zadie Smith, E. M. Forster, and the Idea of Beauty". Starting from the assumption that "Beauty does not rest in the forms in which we encounter it, or match with the idea we have of it." Boxall tried to investigate how the Idea of Beauty might find an expression and become discernible. To do so, Boxall focused on a re-reading of the dialogue between Zadie Smith's On Beauty and E. M. Forster's Howards End: two novels that focus on how love is lost, imagined and missed. Boxall explored how different characters in the novel perceive beauty, taking us through Smith and Forster's characters' struggle towards realisation and self-discovery of superficiality and Howard's direct and immediate encounter with Rembrandt's Hendrickje Bathing at the end of Smith's book. Through the analysis of Smith's reprise of Forster's novel, Boxall thus opens the pathway for new language and space in which the idea of beauty might find expression.

The workshop concluded with two talks by Patrick Jones and Gemma Kate Allred. Patrick Jones talked about his doctoral research entitled "Henry James and the Question of Living". He explained how his project focuses on James's late style as a response to the epistemological problems posed by modernity. In particular, Jones turns his attention to Robert B. Pippin and his claim that literary fiction can sometimes be considered a form of "philosophy by other means". He focused on Pippin's strange omission of style in his otherwise insightful philosophical readings of James. He also discussed how style might work both as a threat and a necessity to any mutually-enriching encounter between literature and philosophy.

The workshop concluded with Allred's presentation, which focused on TikTok as a new performance outlet for staging Shakespeare's plays. Allred explained how in May of 2020, during the lockdown period, TikTok emerged as an alternative platform where young women creators such as @ahobbitstale and @mythicallrose cosplayed some of Shakespeare's characters in a way that challenged inherent stereotypes to the canon. In particular, through TikTok's Duet functions, these creators introduced new ways of thinking about these plays and making theatre despite the lockdown restrictions.

This workshop provided PhD students at all stages of their careers with a unique and rare opportunity to widen their understanding and build a framework to think about and deal with questions of style and the contemporary.
March 25th & 26th 2022: Event Report, Bern, by Matthew Scully UNIL
"Identity Politics and the Study of Literature," an event organized by Prof. Dr. Thomas Claviez (UNIBE) and Prof. Dr. Margaret Tudeau (UNINE), took place at the University of Bern on Friday, March 25th and Saturday, March 26th. Scholars of medieval, early modern, modern, and contemporary literatures gathered to discuss the prevalence of "identity politics" today across the globe, with a particular emphasis on how and in what ways identity politics and the study of literature shape each other. This included an interrogation of how "identity politics" has, perhaps counterintuitively, become a strategy for both the political left and right.
The CUSO workshop featured two distinguished guest speakers, Professor Annabel L. Kim (Roy G. Clouse Associate Professor of Romance Languages and Literatures at Harvard University), who joined via Zoom, and Professor Laurent Dubreuil (Professor of French, Francophone & Comparative Literature and founding director of the Humanities Lab at Cornell University).
On Friday, Professor Kim gave a talk, "Reading Outside the Lines: Literature as Disidentification," which focused on a number of recent examples of French autofiction and exofiction. Prof. Kim argued that, far from being oppositional terms, both autofiction and exofiction name fictional logics grounded in an investment in identity, though that investment appears in different ways. Against these fictional tendencies toward a stabilizing form of identity, Prof. Kim called for a non-realist literature that would transcend the closures of identitarian practices and the demands of the literary marketplace. Such a literature, according to Prof. Kim, could produce forms of readerly disidentification that potentially construct what they call a "subjectivity without subjecthood," that is, a subjectivity that never congeals into a fixed or expected position. Prof. Kim cited the fiction of Nathalie Sarraute, Monique Wittig, and Anne Garréta as exemplary of the more experimental literature she valorized.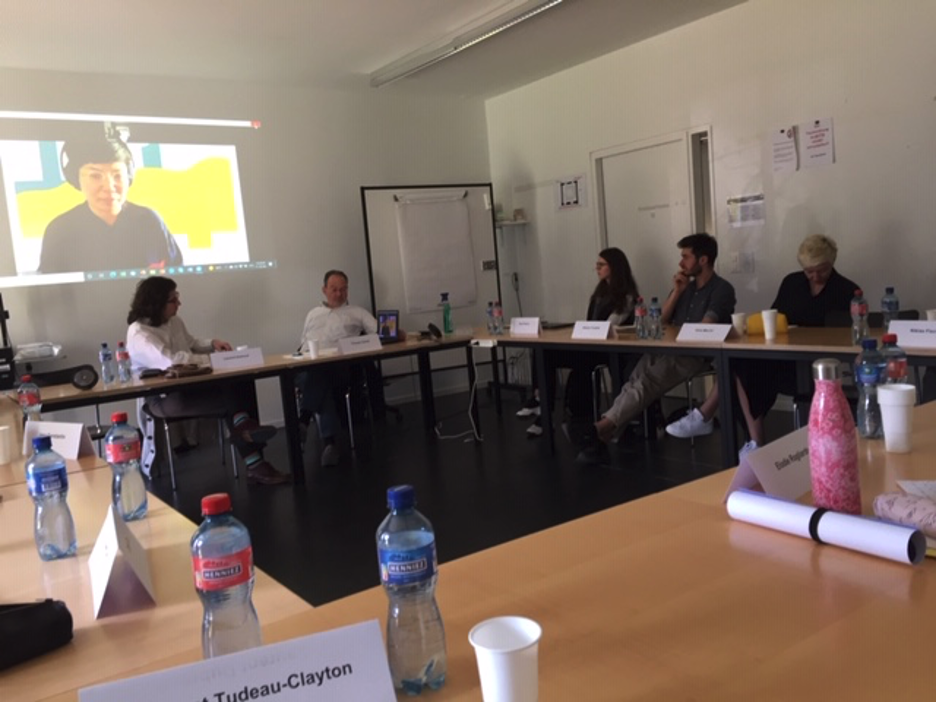 Following a break, Prof. Kim conducted a seminar on the introduction to her first book, Unbecoming Language: Anti-Identitarian French Feminist Fictions (2018). This discussion deepened many of the points on an anti-identitarian literary language introduced in Prof. Kim's talk. Questions were then led by Dr. Viola Marchi (UNIBE) and Dr. Alberto Tondello. Friday concluded with an apéro in UniS and dinner at Casa d'Italia, where the rich discussions of the workshop continued.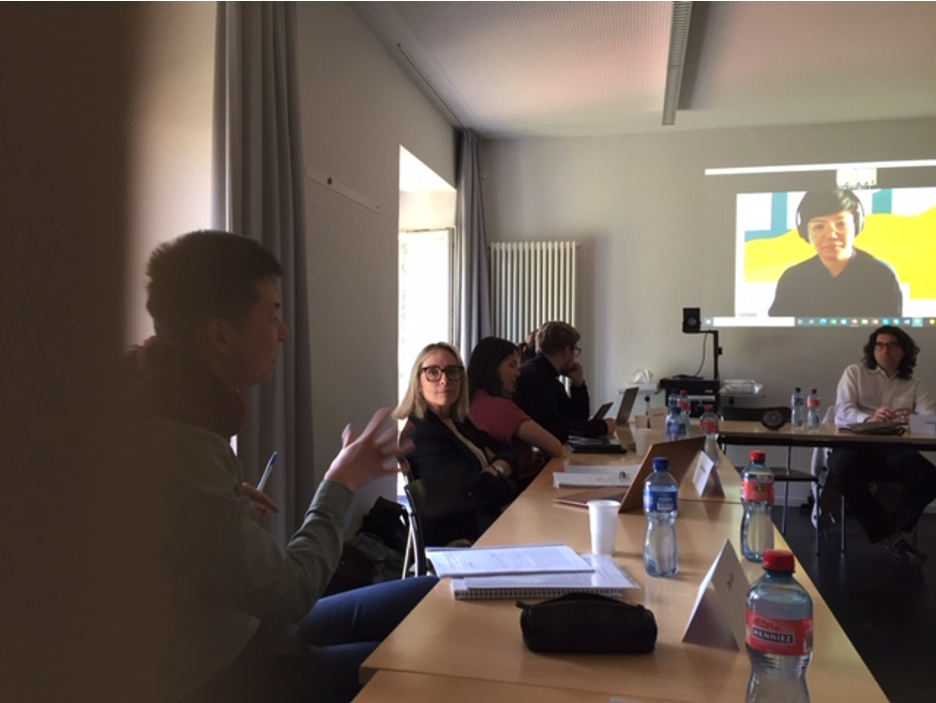 On Saturday, Professor Dubreuil offered a talk entitled "Beyond the Identity Principle: Metaphysics, Politics, Literature and the Arts," which extended the material of his previously-published work, such as La dictature des identités (2019). In "Beyond the Identity Principle," Professor Dubreuil offered a philological and genealogical approach to identity and identity politics, focusing on the historical changes from the 1970s to the present, where identity politics shifted from being a U.S. to a global phenomenon. Importantly, during this shift the anti-capitalist and radical possibilities of identity politics in its initial formulation by the Combahee River Collective Statement (1977) were eroded. Prof. Dubreuil offered a range of provocative literary examples, from Ovid, Shakespeare, and John Donne to Ralph Ellison's Invisible Man. Following a lunch break, Prof. Dubreuil led a seminar on questions raised by his talk and by his essay in Harper's Magazine, "Nonconforming" (2020). Dr. Niklas Fischer inaugurated the question period, which included an animated discussion of the pitfalls of identity and the role of both literature and literary scholarship.
The events of Saturday then turned to two presentations by doctoral students. Jana Constantin (UNINE) presented "The Case of Shylock in Shakespeare's The Merchant of Venice" and Patrick Durdel (UNIL) presented "Identity, Theory & Reference." Both talks led to very lively discussions about the limitations and values of "identity" as an organizing concept in the study of literature, as well as how literature teaches us to interrogate forms of identity, regimes of identification, and strategies of identifying.
Saturday concluded with the organizers' and participants' reflections on identity politics and the study of literature today. While "identity" as a concept and "identity politics" as a strategy can occlude pressing issues of oppression and inequality—whether such forms of power and domination appear grounded in race, gender, sexuality, class, or ability—identity also often appears as a pragmatic or even "productive" concept. Crucial interests of the profession were raised during these closing remarks, including questions related to academic freedom, the possibilities of literature, and emancipatory politics. Overall the CUSO workshop offered a rigorous and necessary opportunity for the participants to discuss and debate many central concerns of literary scholarship.
11 June 2021: CUSO Workshop: Working with Poetry- A report by Jole Fontanesi, University of Fribourg
Organised by Professor Gabriele Rippl of the University of Bern and Professor Julia Straub of the University of Fribourg, the workshop 'Working with Poetry' focused on the technicalities and difficulties of working with poetry as part of academic research and teaching in general. The workshop attracted doctoral students from the Universities of Lausanne, Geneva, Fribourg, Zurich and Bern. The ten or so PhD students present had either concrete research projects on poetry or were eager to deepen their knowledge of this literary genre.

The day started with Professor Simon Swift (Professor of Modern English Literature, UNIGE), who immediately launched himself on the thorny question of the elusiveness and crypticity of poetry and argued that, despite its difficulty, poetry remains an expressive form of profound importance. He discussed different ways to enable first encounters with poetry for university students and showed participants practical examples of the methodological challenges professors encounter when teaching poetry in class. In an innovative way, Professor Simon Swift stressed the importance of interpretative freedom in poem analysis.

After a short coffee break, the workshop continued with Professor Sabine Sielke (Director of the North American Studies Program and Professor of North American literature and culture at Friedrich-Wilhelms-Universität Bonn), who gave us a detailed analysis of the structure, form, language, metrical pattern, and themes of two poems by Emily Dickinson: "The Brain – is wider than the Sky – " (1862) and "Behind Me – dips Eternity –" (1863). Sabine Sielke insisted on the importance of formalism when teaching poetry. In her view, focusing on the poem's structural purposes can help students to interpret and appreciate it on a deeper level.

After a well-deserved lunch break, the workshop continued with Professor Thomas Austenfeld (Professor of American Literature, University of Fribourg), who analysed the text/context relationship surrounding Robert Lowell's poem "Memories of West Street and Lepke" (1959). In particular, he invited participants to pay special attention to the different 'voices' present in the poem. He suggested that every time we encounter a poem, we should ask ourselves the following questions: Who is the speaker? Who is the speaker addressing? What tone is the speaker using? What kind of knowledge do we require to understand this speaker? He also invited participants to read poems aloud because only in this way we can appreciate the sound and colour of the different voices at play.

The last to speak was Professor Erik Redling (Professor of American Literature at the Martin-Luther-Universität Halle-Wittenberg). He focused on Etheridge Knight and his 'Black Poetics of Prisons' and presented a detailed textual analysis of his two 1968 poems "To Make a Poem in Prison" and "The Warden Said to Me the Other Day". He discussed the difficulties of finding the proper interpretative framework and critical vocabulary to speak about poems written in realities different from ours.

This workshop provided PhD students at all stages of their careers with a unique and rare opportunity to widen their understanding of poetry and especially receive expert advice on methodology, theory, and textual analysis linked to this form of literature. But above all, these intense hours of discussion certainly helped dispel the common assumption that poetry is an elusive and cryptic literary form to approach.
Fribourg, 3 October 2019: Literary Texts and Legal Epistemologies in North American Indigenous Studies - a report by Cécile Heim, University of Lausanne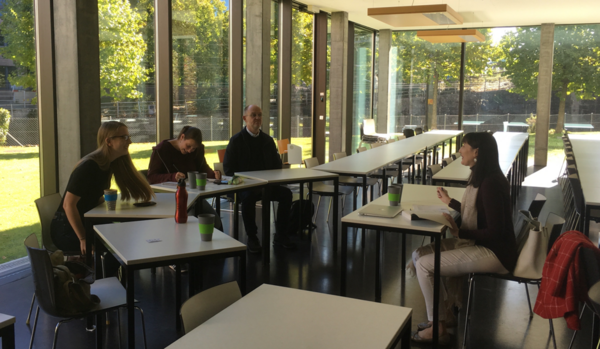 The CUSO Workshop "Literary Texts and Legal Epistemologies in North American Indigenous Studies" was organized by Patrizia Zanella and Thomas Austenfeld and took place at the University of Fribourg on October 3, 2019. The guest of honor and keynote speaker was Prof. Jill Doerfler (White Earth Anishinaabe) who wrote Those Who Belong: Identity, Family, Blood, and Citizenship among the White Earth Anishinaabeg (2015) and co-edited Centering Anishinaabeg Studies: Understanding the World through Stories with James Niigaanwewidam Sinclair and Heidi Kiiwetinepinesiik Stark.
After a generous coffee buffet, the day began with a discussion on two previously read articles: "Wild Rice Rights" by Kimberly Blaeser (White Earth Anishinaabe) and "Trans/National Terrain of Anishinaabe Law and Diplomacy" by Joseph Bauerkemper and Heidi Kiiwetinepinesiik Stark (Turtle Mountain Ojibwe). These articles allowed us to discuss a wide range of topics: we discussed definitions of citizenship, the problems of the term "nation" within and without the Indigenous context, and understandings of treaties. Our discussion concluded that, just as the United States or Canadian governments do not have the authority to give Indigenous nations sovereignty, the Anishinaabeg – nor any other people – do not have the authority to give animals – or any other being – rights, since rights and sovereignty are inherent to beings. These rights can only be recognized, not given, as the literary texts by Kimberly Blaeser and Gerald Vizenor (White Earth Anishinaabe) highlight.
After a delicious lunch and coffee in the Fribourg sun, Aurélie Zurbrügg and Cécile Heim presented their doctoral research. Cécile introduced the audience to her dissertation project and parts of her first chapter. Her research examines representations of, and resistance against, violence against Indigenous women and girls in four contemporary novels written by Indigenous women. Her first chapter analyzes the relationship of Euro-American and Anishinaabe law in The Round House by Louise Erdrich (Turtle Mountain Ojibwe). Aurélie Zurbrügg continued with her presentation "Writing on Walls: Message, Mediality, and Modes of Address." She presented her findings underlining that definitions of (inter)mediality remain loose and the difficulties and advantages of working with such disparaging definitions. These various definitions grant her a flexible position to create original work on one medium, the wall, and its potential and role as connector.
The inspiring and instructive workshop concluded with Jill Doerfler's keynote address "A Philosophy for Living: Anishinaabe Literature on Law, Citizenship, and Activism." In this talk, Jill told the Anishinaabe stories that inspired her work, such as Gerald Vizenor's The Trickster of Liberty (1988) and Ignatia Broker's Night Flying Woman (1983), and described the composition of the White Earth Constitution of the Anishinaabe nation. In the territory that is now called Minnesota, the Minnesota Chippewa Tribe regroups six Anishinaabe nations. One of them is the White Earth Anishinaabe nation who, to confirm their self-determination and exact their sovereign rights, wrote a constitution defining their people's citizenship and the process to obtain their citizenship.
Thanks to this workshop, participants were able to participate in epistemological gymnastics confronting and, sometimes, conciliating Indigenous perspectives with Euro-American ones on the relations between law, citizenship, and literature. In addition, they received rich and productive feedback on their doctoral research, which encouraged and motivated them to continue their work.
Lausanne, 22-23 March 2019: The Cultural Work of Violence - a report by Aurélie Zurbrügg, University of Fribourg
This deeply informative two-day workshop on "The Cultural Work of Violence" took its participants on a journey from a theoretical understanding of violence and its culture to an examination of the role of art and academia in the depiction and analysis of violence.
The symposium started with the customary warm welcoming coffee. After one of the organizers, Cécile Heim, said a few galvanizing words about the program, and the participants had a chance to introduce themselves and briefly present their research, Professor David Schmid, from the State University of New York at Buffalo, started the workshop with a discussion of three densely interesting texts by McKinney, Zizek, and himself. The conversation that these texts inspired started with an analysis of Zizek's definitions of subjective, systemic, and symbolic violence. It went on to a thought-provoking conversation about the relationship between violence and the American character, as Prof. Schmid explores in his introduction to Violence in American Popular Culture: "Recovering American Violence," and it concluded with McKinney's differentiation between strong and weak violence. While this fascinating session could have lasted eternally, the need for bodily sustenance drove the group to Da Nino's and allowed us to continue the conversation over lunch.
The afternoon began with four PhD students' presentations. Juliette Loesch told us about her work on Oscar Wilde's Salome and how the translation from text to stage, ballet, or opera can be seen as violence perpetrated on the play. She also touched on the obviously violent scene in which Salome kisses the severed head of John the Baptist and was interested in different media's idiosyncratic representations of violence. The second PhD student who presented her research, Aurélie Zurbrügg, talked about the loss of the distinction between private and public spheres, which Toni Morrison mentions in her essay "The Foreigner's Home." Aurélie drew a parallel between a fictional character's use of walls as the medium for her testimony in Morrison's 2008 novel A Mercy and the way Facebook users resort to the digital, public, walls of social media to communicate. Ximena Osorio Garate then talked about her work where she connects two types of violence against women which are taking place simultaneously in Peru since 1995: the disquieting massive sterilization of Indigenous women on the one hand and, on the other, the rape of women during civil insurrections. Ana Gomes Correia concluded this part of the workshop by addressing her research on the gendered depiction of war in American literature. Each presentation was followed by extremely constructive comments from the participants and from the two experts, who were particularly generous with their advice.
The last part of the afternoon was devoted to Prof. Schmid's keynote on the "Popular Cultures of Violence." Starting with the Puritans' pedagogical vision of violence and moving all the way to controverted collections of murderabilia, Professor Schmid talked about the relationship between American culture and violence. He claimed that this unsettling obsession with everyday life objects that belonged to serial killers may contribute to the demystification of the murderers who owned them. This rich day was concluded with a dinner at DaCarlo's.
Building on the fundamental understanding of violence that was acquired on the first day of the workshop, the second day was dedicated to the position of Indigenous women in settler-colonial America(s). Professor Mishuana Goeman, from UCLA, conducted a fascinating group discussion of two pieces she wrote: "Land as Life: Unsettling the Logics of Containment" and "Disrupting a Settler-Colonial Grammar of Place: The Visual Memoir of Hulleah Tsinhnahjinnie." The conversation raised many enlightening points about the various forms of mistreatment Indigenous peoples have to endure and their consequences. The exchange was concluded with the interesting idea of the violent practice of inclusion into the colonizer's state of which Indigenous people were the victim. By forcing Native Americans to become American citizens, even resources such as education were turned into violence, as residential schools notably exemplify. The discussion was continued over lunch at DaNino's, and after a much-needed caffeine refuel, the afternoon started with three PhD students' and a postdoctoral student's presentations. The first person to present her work, Emilie Martini, told us about her work on language as a weapon against violence. Relying on Humboldt's and Adorno's works, Emilie also touched on the violence of translation, its alienating distancing effect, and the inescapable rupture that translation implies. Patrizia Zanella then proceeded to presenting her PhD project, which she will soon hand in. From people's movement over the Medicine Line (US-Canada border) to the "unlearning" role of residential schools, Patrizia took us to the questionable position of Tomson Highway in his various renderings of violent events, depending on the gender of the victims and the nature of the violence the author depicts. Her presentation was followed by Ryan Kopaitich's, who told us about his nascent post-doctoral project on community. His presentation gave rise to an interesting conversation about the role of consent in the creation of communities. Cécile Heim concluded this part of the afternoon with a description of her PhD project, in which she offers to re-imagine law, violence, and justice relying on four Indigenous literary pieces. Needless to repeat that each and every presentation that took place on both days was followed by invaluable advice from both experts and from other doctoral participants.
The final part of the workshop was Professor Goeman's keynote: "Turning the Spectacle: Imagining Indigenous Futures, Killing Colonial Pasts." Prof. Goeman raised fascinating questions, such as the position of academia in the depiction of Indigenous women as victims of appallingly violent acts. When it comes to violence, how can academics complexify the problem without adding to the spectacle? How can one move away from the wide-spread vision of the rape of Indigenous women as equal to the conquest of the land? How can one use the language of loss and mourning to achieve sovereign mobility? Through documentaries that feature Indigenous women who tell their stories in their landscapes, Prof. Goeman offered her audience a glimpse into a progressive future for First Nations, in which the colonial past could be killed. Prof. Goeman thus concluded this highly informative two-day workshop with this inspirational thought and left the participants with an unquenched thirst to further examine the problematic use of violence in the United States and its representation in different forms of art.
Bern, 29 June 2018: Resurgences: Indigenous and Western Perspectives on Sovereignty and Nationhood - a report by Aurélie Zurbrügg, University of Fribourg
The morning started with a welcome by Cécile Heim and a brief introduction of participants who shared their main questions and inquiries. There was a lively, interdisciplinary group of around ten students present. The morning continued in a very interactive vein as we discussed four different articles by Jeff Corntassel, Jeannette Armstrong, Shari Huhndorf, and Paula Gunn Allen. We talked about the necessities and limits of nationalist approaches in Indigenous studies, taking into consideration the role of women, as well as about the role of literary criticism and theory in nationalist discourses. At the same time, we grounded our discussion in a European context more familiar to participants. In particular, we considered the privileged relationship to land and territory of Indigenous people while being mindful to avoid inadvertently strengthening anti-immigrant rhetoric. Professor Lutz's interventions as a European scholar who has spent a significant amount of time on Turtle Island were very insightful. Particularly, he offered invaluable additional context to the article written by Jeannette Armstrong, whom he has known and collaborated with for many years. The animated conversation carried on into the lunch break at a nearby restaurant.
The afternoon of the workshop started with the presentation of Eliane Gerber's MA project at the University of Bern on the role that communication design can play in anti-guerilla campaigns in Columbia. Ms. Gerber demonstrated how she aims to prove, in her thesis, that communication design is not merely a decorative aspect of mass communication but that it can contribute to peace-building processes. Her presentation gave rise to an interesting discussion on ethics, trauma, and reintegration of FARC members. In a second time, I presented the early stage research for my PhD project "Writing on Walls: Message, Mediality, and Modes of Address." The presentation was followed by numerous valuable comments on the contrast between public and private literatures, the aesthetic aspect of wall literature, and the opposition between a wall and a book as media. The last presentation was by Marie-Eve Beaulieu, from the University of Trier. She told us about her research on the relation between Manitoban public schools and Anishinaabe students. Ms. Beaulieu explained how complicated it can be to lead interviews in public schools and to build a trust relationship with Indigenous communities. After a coffee break, Professor Lutz officially inaugurated the 15th Annual Meeting of the Emerging Scholars' Forum of the Association for Canadian Studies in German-speaking Countries: "Witnessing Resurgence: Self-Determination and Allyship" with a thought-provoking key note on the "Ius sanguinis and ius soli: European Notions of Nationhood and Ethics of Indigeneity." The workshop and first day of the conference then festively concluded with an Apéritif at the Cerny Inuit Gallery which united all workshop as well as conference participants, members from the GKS, SANAS, and the Canadian Embassy.
Fribourg, 13 April 2018: American Literature and the Archive – a report by Aurélie Zurbrügg, University of Fribourg
This one-day workshop on "American Literature and the Archive" was the opportunity for Professor Randall Fuller, from the University of Kansas, to illustrate the role archives play in the research process of scholarly writing. The event was launched with a warm welcome dinner in the company of our invited guest in the old city of Fribourg. The next day started with an invigorating cup of coffee, which gave each of us the occasion to get to know every member of our small, yet interesting group before joining the classroom. The first part of the morning was dedicated to a presentation of Professor Fuller's research for the three books he has published and the role archives played in their writing. He demonstrated in a stimulating manner how archives are crucial in his life as a literary researcher. Fuller had access to such rarities as the first copy of Darwin's On the Origin of Species in the process of writing The Book That Changed America: How Darwin's Theory of Evolution Ignited a Nation. Fuller also explained the limitations of an archive. Lack of overview and all-inclusiveness of certain archives can be counterproductive; an archive is a tool that one should use wisely if one aspires to find the few pieces of vital information that can be lost in a sea of laundry tickets and invitations for tea. Fuller closed the first part of the morning by reading a few passages from his forthcoming biography of a transcendentalist woman writer. Such a rich presentation gave rise to various questions from the audience, which Fuller answered during a much-needed coffee break.
Once our energy was regained, we tackled the second part of the morning devoted to the question of the relation between archive and database. This debate revolved around three articles Fuller had asked us to read prior to the workshop. Using the Whitman Archive and Melville's Marginalia Online, among others, we discussed to what extent such databases are assets and to what extent the immateriality that they entail can be problematic for literary researchers. With the end of this talk came the end of a fruitfully thought-provoking morning. And because intellectual sustenance is nothing without physical sustenance, the party had lunch at the Mensa of the University of Fribourg. After a coffee and some well-deserved Swiss chocolate in the warm April sun, our guest and the rest of the company were ready to hear about the on-going Ph.D. projects of Patrizia Zanella and Kilian Schindler. Ms. Zanella's presentation of her research on "Crossing Borders and Drawing Boundaries on the Back of the Turtle. The Border-Crossing Fiction of Louise Erdrich, Tomson Highway, James Welch and Thomas King" ignited interesting comments on the connection between environment and language in indigenous literature. It was followed by Mr. Schindler's demonstration of his work on "Religious Dissimulation in Early Modern English Drama," which gave rise to a stimulating discussion on the complicated relationships between theater/performance and reality/authenticity in the Elizabethan era. Following the end of the formal portion of the workshop, the group enjoyed a drink with the breath-taking view from the sunny Belvédère patio to conclude the day.
Lausanne, 24 February 2018: Pluralise the Anthropocene - a report by Lily Dessau, Université de Genève
The one-day workshop, organised by Maria Shmygol (Genève), Kirsten Stirling (Lausanne) and Zoe Lehmann (Berne), was both a theoretical and practical exploration into the question of how we, as doctoral students, researchers, and interdisciplinary thinkers, conceptualise and apply the new-and-not-entirely-secure term 'Anthropocene' in different fields of research.
After coffee served in 70% bamboo reusable cups, a material reminder of the implications of the term 'Anthropocene', the day started with a practical exploration of the divergent uses of the term. Guest speaker Professor Steve Mentz, of St John's University, New York, began by mediating an open and reflective discussion on encounters with 'Anthropocene' both within and outside the field of literary criticism.
Resistance to periodization, a topic raised by one of the preparatory readings from Anthropocene Reading: Literary History in Geologic Times,[i] was reflected in the vast-ranging research interests of the workshop participants. Though not everyone chimed in agreement with Jeffrey Jerome Cohen's concept of the 'whorl' to replace temporal linearity in uncertain ecological times, it certainly provoked interesting discussions over how we negotiate the use of such an explicitly scientific term in the field of literary criticism. Contributions bounded between the question of definition and application, both where the Anthropocene itself begins and ends, and the implications for both past and future narratives of the 'earth' in its shadow.
Productive interventions came from around the table, drawing on how the term speaks to or jars with their own interests. In particular, how the Anthropocene of research in the humanities might be in contention with that of the sciences (Lehmann), the explicitly literary use of the term in relation to form (Hazrat), and the question of homogeneity in the root Anthropos- from the perspective of postcolonial and indigenous studies (Heim). During the workshop our attention was drawn, and our critical vocabulary stretched, to thinking about the Anthropocene through a piece of art produced especially for the workshop. The piece is by artist Vanessa Daws whose practice explores place through swimming, and it engages with the term 'Anthropocene' in both form and content. An unusual departure from her usual medium, the watercolour painting prods us into questioning the material, while in the scene the tension between the human and non-human is displaced by an overwhelming threat manifest in an alien-looking body of water. Everything is thrown into question.
Interrogation of the term 'Anthropocene' itself carried through into the afternoon, and Professor Mentz's concluding paper 'Eco-Poetics in the Anthropocene' which covered four key words in thinking about the Anthropocene: catastrophe, time, human, and toxicity. But without wanting to disrupt the narrative of the day's events, we must turn to the powerful contributions from the two doctoral students presented at the workshop.
After refuelling at the campus restaurant Da Nino, the group returned to the aptly chosen (or more likely coincidental) Anthropole building for the two doctoral presentations. First, Rachel Nisbet (Lausanne) distilled her recently submitted thesis into the presentation 'Murmuring then Muttering: Anthropocene River Narratives (1798 – 2009)'. As well as learning about the copulating turtles entombed at the bottom of a 47-million-year-old lake, we gained insight into Rachel's richly interdisciplinary enquiry into the question of what is lost, and what remains, in the ecologically significant site of the river in literature from William Wordsworth to Alice Oswald, with recourse to Virgil's Georgics.
We then heard Viola Marchi (Berne) speak on 'An Archaeology of the Anthropocene: Concepts, Stories, Life in Common', a presentation that drew on her larger doctoral research into the question of the Common and Community. Figuring a 'Sublime Anthropos', after Immanuel Kant, and wanting to disrupt the narrative of the Anthropocene as questioning the 'end', Viola took us in a self-identified 'unorthodox', and quite inspired, direction in asking whether the emphasis on locating or temporalizing the Anthropocene in fact takes us all the way back to Sophocles for the answer… In a way, Viola's Anthropos Rex is a provocative alternative to Professor Mentz's Old Man Anthropos, found in Anthropocene Reading, and in figuring more than one Anthropos, it seems as though we came closer to achieving the day's 'goal': to pluralize the Anthropocene.
A really big thank you to the organisers Maria, Kirsten and Zoe, Professor Mentz, and doctoral student presenters Rachel and Viola. I think it was really important in helping us all further our thinking about literature, and the humanities, in relation to the environment and ecology. Professor Mentz also reflects on the brilliant day here.
Berne, 15-16 September 2017: The Materialities of American Culture – a report by Edward Wright, University of Bern
This two day workshop offered participants a chance to deepen their understanding of how the theorising of materiality might intersect with their own research interests. Professor Christian Emden of Rice University, whose own research concerns the modern intellectual history of Europe, opened with a keynote titled "Neoliberal Hyperobjects and Communist Biospheres: The Political Fallacies of Posthuman Materialism". Professor Emden's overarching point was that we pay attention to the political implications of the material turn in recent critical thought. The work of posthumanist thinkers such as Rosi Braidotti and Timothy Morton were appraised as somewhat deficient for the very reason that they seek to enfold too much into their theories, without having fully considered the role normativity plays in defining their objects of study. For the purpose of mounting this critique, a definition of normativity was elaborated, whereby the normative world is understood as "a historically emerged material space of possibilities". Siding with another posthumanist voice, Jane Bennett, Professor Emden argued that the materiality of culture – which he understands as being akin to Donna Haraway's coinage, natureculture – needs be taken seriously if we are to formulate an ethics that can account for the role normativity plays. The accusation levelled against posthumanist thought – albeit not at all posthumanist thinkers – is that in grounding their ethics on a form of ontological levelling they lose a sense of proportion and end up making ill-advised claims concerning the accountability of actors – in the sense of a Latourian network. Bennett, on the other hand, avoids the "diffusion of accountability" which sees moral wrongs of differing consequence being rendered equivalent, for her account pays heed to material context.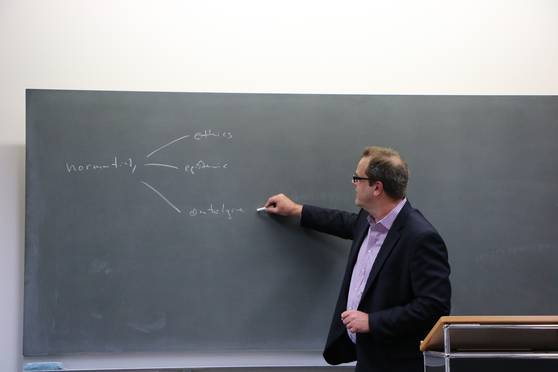 Topics raised by audience members during question time addressed whether posthumanist debates run the risk of over-theorisation (Straub); whether we should distinguish materiality from matter (Behluli); whether new materialism as a discipline can be effectively applied to the study of intangible spiritual traditions (Wassan); and whether the focus on materiality is in itself a very Western preoccupation, and thus constrained in its applicability (Heim).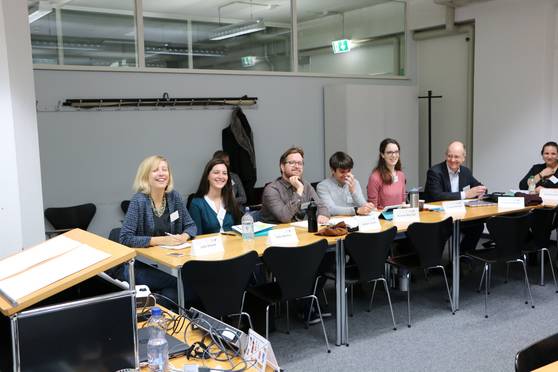 After a typically satisfying lunch at Ali Baba, Professor Mark Seltzer (UCLA) delivered his keynote on the relevance of systems theory to the study of materiality. One of the starting points for this talk was Harold Morowitz's proposition in his 1968 book Energy Flow in Biology, in which he states that "the energy that flows through a system acts to organize that system". The study of systems, be they biological or social, figures large in the context of new materialism. Thus, among the texts provided as preparation for this workshop was a chapter outlining Niklas Luhmann's appraisal of social systems. Professor Seltzer gave examples of how the premise that society, as a social system, consists solely of communication, manifests materially. That is to say, thoughts are embodied, and communication between subjects demonstrates the materiality of the social. Here Professor Seltzer referred to Sharon Cameron's 1989 book Thinking in Henry James, which provides him with the argument that thinking takes place between persons. His main example, however, was the act of "radical exteriorisation" that is exercising. More specifically, the "self-stressed workout" – with emphasis on the work-like nature of exercise – is a form of self-realisation, or communication with oneself via the exterior. For especially in the context of a gym, one's exercise routine is conducted amongst a public of exercising individuals, whose sighting of the "publicly worked body" makes the process socially meaningful. The significance of exteriority – we might say materiality – was also promoted by the example of the Jason Bourne films, in which the protagonist reads his interior state through the results of his own actions. The faulty connection of mind and body is offset by the flow of information through the material world. Thus the action hero becomes a Latourian actor-network hero, and a cultural object – in this case a film – can be read as an exploration of the "mood" of systems. The status of the workout as a form of work highlights the quasi-religious devotion to repetition endemic in modern society: A conversion has taken place, in which a Taylorised work ethic has replaced ethics per se.
Among the discussion points that were posed afterwards were, whether or not we can understand self-destructive acts as a form of self-realisation (Anders) and what role genre plays in the appreciation of systemic devices (Rippl).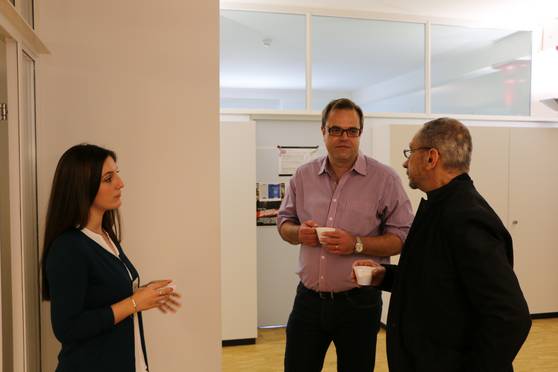 On the second day attendees presented their "tough nuts to crack"; short summaries of their research projects followed by inputs and opinions from the plenum. What follows here is a summary of the projects. Roman Bischof's work is on representations of mental illness in in twentieth century novels; Claudine Bollinger looks at altered cognition in science fiction; Joe Comer interrogates discourses of LGBTQ advocacy; Stella Castelli investigates aesthetic strategies used in presenting death in literature and film; Vidya Ravi has begun an enquiry into the depiction of rurality in South Asian fiction; Edward Wright is making the first steps towards an investigation of the metaphoric use of decay and compost imagery in contemporary literature; Zainabu Jallo is studying the spread of a diaspora consciousness through visual representation in Candomblé, an Afro-Brazilian religion; and Rafique Wassan is examining Sufi cultural heritage in Pakistan.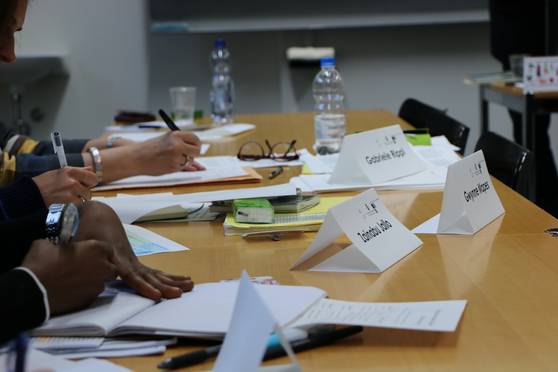 In the afternoon most attendees went on a tour of the Stiftung Abegg near Riggisberg. The museum is based on a private collection of textiles such as garments and tapestries from all ages and all around the world, including some rare works from the middle east. The recent refurbishment is very well thought through, and brings the best out of the collection. A highlight was the burial garments for the Chinese nobility. Our guide explained how the textiles are handled, including some of the conservation methods being used, which served as a reminder of the materiality of visual communication. Although the tour was brief, the museum collection is rich and warrants a second visit.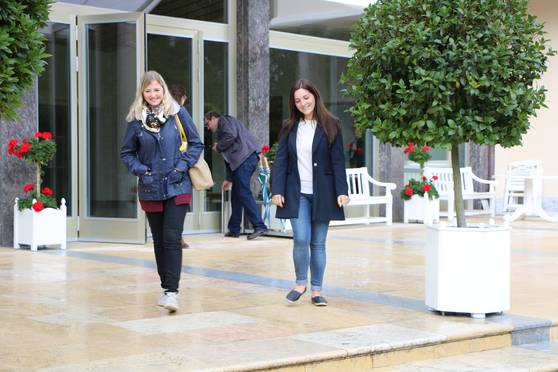 Neuchâtel, 30 April 2017: Change in English Language and Literature – a report by Aleida Auld, University of Geneva
As a doctoral student, constraints of time and energy usually require staying devotedly focused on one's historical period and subject matter. It is thus a particular pleasure to go further afield, to literary landscapes, foreign and fresh.
On Sunday, April 30, CUSO hosted a doctoral workshop in tandem with the biennial conference of the Swiss Association of University Teachers of English (SAUTE). The conference's plenary speakers, now workshop participants – Professors Ewan Fernie, David Simpson, and Felipe Fernández-Armesto – guided us from G.W.F. Hegel's Enlightenment to Walter Benjamin's Modernism, to present-day research on the human animal and cultural production.
Along the way, we addressed critical trends, like the revived interest in character studies (drama), and in the relationship between the lyric speaker and the non-fictional poet (poetry). We discussed detailed questions on the texts, such as, what does Benjamin mean in 'The Critique of Violence' (1921) by the educative power [...] in its perfected form? But we also pondered and debated more elemental topics, among them, how cultural production is related to time, and the purpose of language.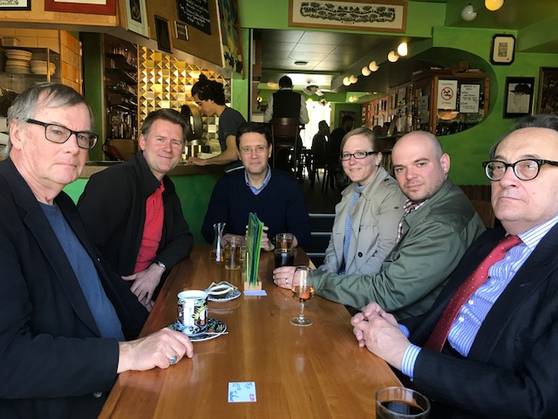 In the afternoon three doctoral students gave work-in-progress papers. Vincent Laughery, based at the University of Lausanne and a recipient of the Swiss National Science Foundation Doc.CH scholarship, presented an overview of his project on metaphor and agency in Shakespeare's tragedies. Kilian Schindler, from the University of Fribourg and another recipient of the Doc.CH, explored Christopher Marlowe's The Jew of Malta (c. 1590) as a potential response to Machiavelli as an ethical thinker, particularly in the character Barabas's 'ethics of dissembling'. Representing the University of Geneva, I gave the third paper on 'Canonical Change and the Material Text', which offered a theoretical overview of my doctoral project and posited some tentative general arguments. Vincent, Kilian, and I received insightful feedback from the conference's plenary speakers and the other workshop participants. Genuinely useful responses were also offered by post-doctoral researchers Emma Depledge and Alice Leonard, who went out of their way to attend the session.
On behalf of all the participants, I would like to warmly thank Ewan, David, and Felipe, as well as the organizers at the University of Neuchâtel, Professors Martin Hilpert, Margaret Tudeau-Clayton, and Patrick Vincent and, last but not least, doctoral assistant Anne-Claire Michoux.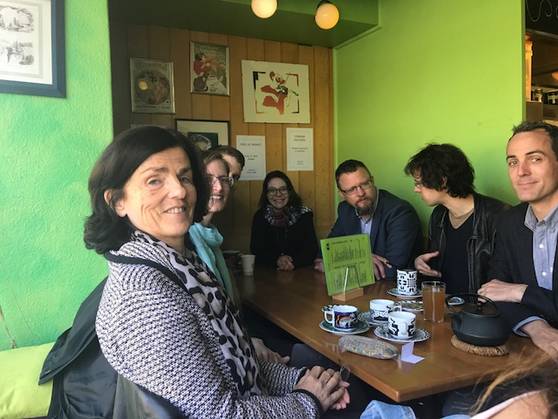 Lausanne, November 25-26, 2016: "American Studies: Looking Backwards and Forward" – a report by Cécile Heim, University of Lausanne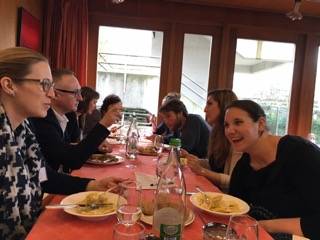 As all good things should, this workshop started with food: a common lunch at the "Banane" in order to get to know each other and meet the speakers in a less formal setting. After this tasty opening, Cynthia Wu, Assistant Professor with the Transnational Studies Department at the State University of New York at Buffalo, opened the scholarly part of this workshop with a speech on the life of Senator Daniel Inouye and his exploitation of his disability in his political discourses, and on how the Asian-American success story on Hawai'i renders the colonialized condition of indigenous existence invisible. The following seminar which was connected to her speech and on an article by famous indigenous scholar Haunani-Kay Trask touched on key issues in Indigenous Studies, such as self-determination, as well as Asian-American studies, immigrant studies, and the relationship between land and capitalism, and the problematic nationalist discourse in Trask's article. This first day then ended, as all good things should, with a fondue dinner (and steak or fish for others) in Ouchy.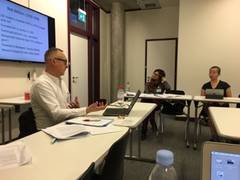 Early on Saturday morning we met again to listen to the second keynote speaker, Dr. Tomasz Basiuk, director of the American Studies Center at the University of Warsaw, who led us into a different realm of American Studies. After a short introduction into Queer Theory, he introduced us to the rather unknown, yet weirdly fascinating figure of Charlotte Bach, which was followed by a discussion on the place of individual stories in larger fields of studies, and on the relation between Queer and American Studies.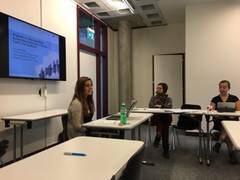 After a coffee break, it was the PhD students' turn to present their work. Starting us off, was Roxane Hughes from the University of Lausanne who presented her practically completed project on the practice of footbinding in Chinese American Literature, which she approaches as much from a historical as from a literary point of view. I then presented my own project on the cultural negotiation of the law and justice in Native American crime fiction with a special focus on sexual violence. After lunch, Sofie Behluli from the University of Bern, presented her project on Originals, Reproductions and Ekphrasis in Donna Tartt, before Audrey Loetscher, from the University of Lausanne, presented her project on the roots of American unsustainability. Both of these projects are still in the early stages and hopefully received a lot of interesting and useful feedback. Finally, James Dawson, also from the University of Lausanne, presented his research on David Foster Wallace's connections between Materialism, the body and capital.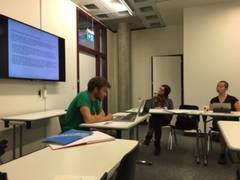 Although this workshop developed in a different way than announced and did not cover the history of the field of American Studies, it was very nice to meet and talk with the keynote speakers and, especially, PhD students in order to strengthen the bonds of our PhD community, and it certainly did show how far American Studies can stretch, as within one and a half days, the participants discussed topics as varied as Indigenous Studies, Asian-American Studies, Queer Theory, identity politics, postmodernism, American unsustainability, and Materialism.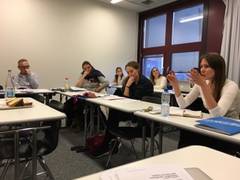 So thank you very much to the keynote speakers Cynthia Wu and Tomasz Basiuk, as well as to the MA students and PhD candidates who attended, and, most of all, to the organizers Agnieszka Soltysik-Monnet and Joanne Chassot!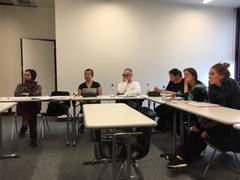 Bern, 6-7 June 2016: Beside Words: Rethinking Discourse/Text as Theory and Practice – a feedback by Joseph Comer, University of Bern
This workshop, led by Professor Susan Foster (University of California, Los Angeles, USA), Professor Rodney Jones (University of Reading, UK) and Professor Crispin Thurlow (University of Bern), was engaging and highly enjoyable. In discussing the various spatial, embodied, material and affective turns that the humanities and social sciences are undergoing, we were encouraged to think creatively, critically, and perhaps queerly about the limits of academic theory and practice. This was a great success of the workshop – the freedom all students had to rethink existing conventions and received practices. Throughout, we were made keenly aware of the limitations of creativity: we exposed the beguiling but misleading view that it functions through the complete unshackling of constraint. As Sisyphean as this may sound, our scholarly work is always creative and change-making – no matter how monolithic our institution/s, or how mammoth our task to describe the world, seems. In doing our work we (must) always inhabit the space beside those who've come before – we can never truly or simply move beyond.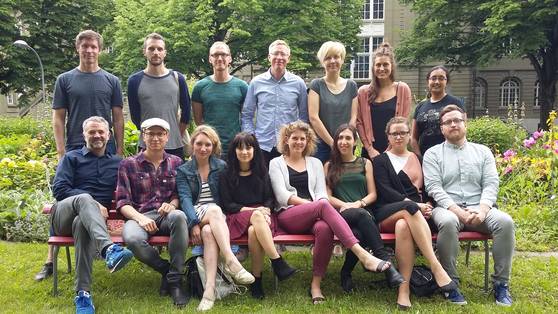 Workshop participants in the UniS garden in Bern
Geneva, 27 May 2016: Critical Theory and "Life": Ethics, Religion, Ecology – a report by Rachel Nisbet, University of Lausanne
Our "Critical Theory and Life" workshop began with Professor Arthur Bradley leading a discussion on Foucault's Biopower, the final paper in his lecture series "Society Must Be Defended" (1975-6). Professor Bradley's insights helped us identify overlaps between Foucault's notions of sovereign power and biopower. For Foucault, in the nineteenth century, the sovereign's power to "take life or let live" transforms into biopower that makes live and lets die (241). He attributes this power shift to a change from body-centred power techniques that survey and drill individuals, to technologies applied to 'man-as-species' (242-3). This model, man-as-species, nevertheless has internal cleavages along race lines, and, in the nineteenth century, Foucault contends the ideology of cultivating a vigorous species gave rise to "colonizing genocide" (257). Thus, modern, and contemporary, murderous states elide the sovereign's power to take life, with normative biopower technologies that manipulate the species (260). For instance, negative eugenics pre-emptively suppresses births amongst those with undesired traits. Foucault's theory, accordingly, enables us to interpret contemporary events critically: in addition to discussing eugenic killing at a virtual level, we also considered how physical bodies become symbolic, as movements of resistance; and, how the earth is often conceptualised as a body by ecologists, who argue that it should be left to live, not managed. How life is accorded, and the relationship between life and agency, were other important considerations surfacing towards the end of our discussion.
After lunch, I presented my own PhD research on chapter 1.8 of Finnegans Wake. I read this as an ecoanarchist text that fosters individuals' active role in furthering the collective flourishing of 'life' (Nisbet, 2016). Rather than a top-down biopolitic imposing behavioural shifts through "regulatory technology" – to make populations 'fitter' state resources – Joyce mobilises river-woman Anna Livia Plurabelle (ALP) to enact socio-environmental changes from the bottom-up (Foucault 249). ALP gifts specific, named Dubliners one from a series of ills, contraception, gout to quash greed, or a desire for insurrection. These gifts prompt members of Dublin's urban community to recognise their unconscious drives, while impelling them to renegotiate their relationship with the Liffey's environs (see also Nisbet, 2016[1]).
Patrick Jones also presented his PhD research in this session, focusing on Henry James' The Ambassadors (1903). His paper examined the destabilisation of the subject positions 'he' & 'I' in this text, pronouns that offer outside and inside vantage points respectively. Patrick drew on continental theorists including Deleuze and Merleau-Ponty to consider how free indirect style destabilises subject positions. The latter's radio lecture, Man Seen From the Outside, was insightful in considering the place from where an individuated subject speaks.[2] Merleau-Ponty observes that we recognise individuals from their defining bodily characteristics, including their looks, gesture, and speech. He adds we experience their emotions via the physical expressions of their bodies. Thus, emotions are enacted, and encountered in the space environing self and other. Selfhood is constructed in relation to the bodies that surround us. Merleau-Ponty's observation that selfhood is defined in relational terms prompted Patrick to question how, then, does a voice claim itself?
Our "Theory and Life" workshop was subtitled "Ethics, Religion, Ecology." If Professor Bradley's session offered a clear ethical and theoretical frame for our discussions, then Professor Anne-Lise François's contribution brought religion and ecology into the equation as well. She invited us to consider the process of sequestration, a term currently used to describe the long-term storage of carbon in old oil reserves. During her presentation this term, sequestration, was transposed as we considered how characters are sequestrated, buried in the ground, and made immanent in poems including Wordsworth's "A Slumber did my Spirit Steal." To enrich our close reading of these texts, Professor François introduced us to the work of contemporary French philosopher Frédéric Neyrat, who shares Foucault's interest in biopolitics. Neyrat's article "Intact" examines our fundamental urge to remain "untouched or unscathed," impregnable to events (105). The desire to protect health and security is a fantasy in an environment of continual emergence, and bio-physical encounters. Yet Neyrat reminds us that for Freud there is a drive to remain untouched, in addition to the more familiar life affirming and death drives (109). Paradoxically, despite global calls to tighten boarders, immunize populations that seem to be motivated by this drive to remain untouched, we inhabit an earth that is no longer untouched, (111). Love is proposed by Neyrat as the antidote to this drive to remain untouched (ibid.).
I blundered into an example of loving sequestration on returning home after our workshop. Searching amongst my grandfather's possessions, I looked for a letter. It was not in an old collection of postcards, so I opened a blue tin box with a butterfly on the lid. All the letters inside were dated February 1949. They were letters of condolence, written 67 years early. My great-grandparents had kept them; after they had passed on, my grandfather kept them; now they've come to me. As I read offerings of deepest sympathy, at the sudden death of my grandfather's younger brother, I was shocked at their authenticity, their ability to make me feel the pain of a death. Loving memories seemed to offer partial immunity in response to the tragic death of a young man in a traffic accident, weeks after he returned home from serving in the armed forces in Singapore. Clara and Selwyn recalled, "the happy times we all had when Russell was at Blackpool." However, those who touchingly remembered Russell, also acknowledged that their bodies were intact, alive, and therefore open to a fate like his. The letters were, of course, addressed to his parents offering comfort and friendship; this was the antidote they sequestered.
With many thanks to Professors Simon Swift and Agnieszka Soltysik Monnet, and Sangam MacDuff for organising such an excellent workshop!
Neuchâtel, 28 November 2015: CUSO Workshop on Tools for Digital Humanities: A Practical Workshop – A Report by Tobias Leonhardt, University of Bern
The goal formulated by Prof Elena Pierazzo (Université Stendhal Grenoble III) at the outset of this workshop sounded rather improbable at first: To teach the basics of XML in, and here I quote, "five minutes". Sure enough, however, it is well within this time frame that she shows us a slide that says, in big letters, "That's all folks. You have learned XML!", we start to code away, and soon even succeed in computing some cooking recipes.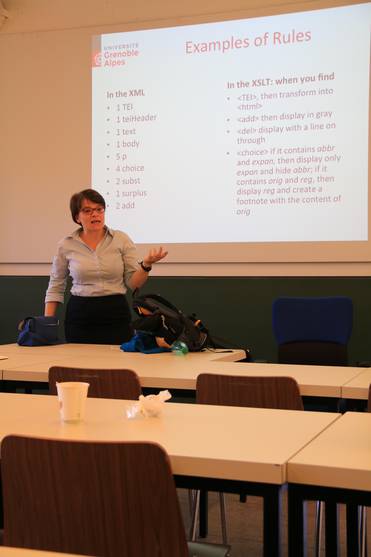 XML is an exciting language that was new to most of the workshop participants, but Prof Elena Pierazzo enabled us to see and learn a lot about it in only one day. She showed how a myriad of tasks that we do in our every-day lives are possible only because somewhere in the process XML is spoken: not only is this true for many computer programs we use on a regular basis such as Word, but also for cash transactions or refuelling a car. Besides enhancing our consumer vision, we adopted the developer perspective, learned about mark-ups, elements, attributes, syntax, et cetera, and thus acquired the skills to work with XML ourselves. The software we used is called Oxygen, which is, due to its nicely structured interface and its functionality, ideal for learners and experts alike. The tasks soon became more difficult, and instead of cooking recipes, old manuscripts had to be transcribed. How to treat main text and annotations, indentions and page breaks, deletions and missing or illegible parts? In trying to answer these questions, it became apparent what XML is capable of, how seemingly simple things require careful and very much conscious planning and coding, how the basics may indeed be conveyed in five minutes but that, like so often, mastery requires a lot of practice. These exercises and the insights they provided are transferable so that all participants, and not only those focusing on manuscripts in their academic career, have profited from the workshop. Tackling LaTeX or Macros, for instance, does not seem to be impossible anymore.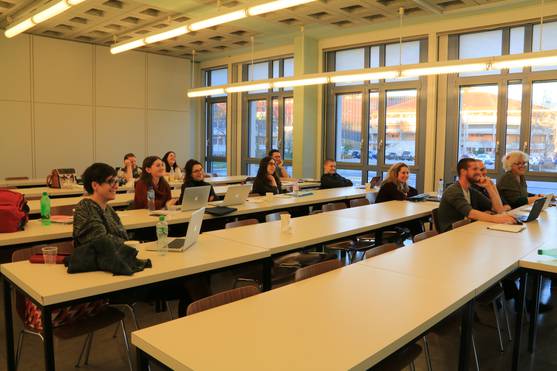 On behalf of all the participants, I wish to thank Prof Elena Pierazzo for equipping us with this XML toolkit (and cooking recipes), and Erzsi Kukorelly (University of Geneva), Lucy Perry (University of Lausanne) and Patrick Vincent (University of Neuchatel) for the organization of this workshop. It was enjoyable and fruitful to delve into a new topic, to interact with others during coffee and lunch breaks, or even to go on a short walk at Lake Neuchatel in the autumn sun.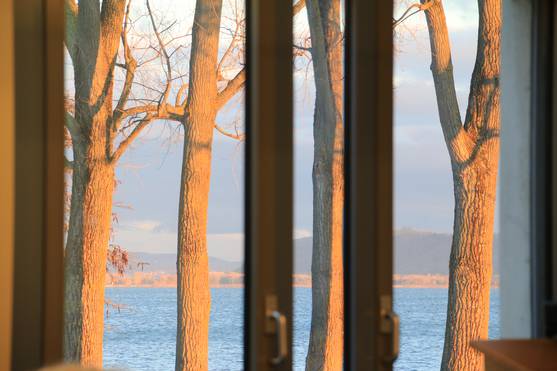 Geneva, 4-6 June 2015: CUSO Co-funded Conference on

Approaching Posthumanism and the Posthuman

- A Report by

Seline Reinhardt, Institut für Religionswissenschaft, Universität Bern
Preliminary note: To give an accurate and all-embracing account of the plethora of information and encounters of a rich conference such as the Approaching Posthumanism and the Posthuman conference held in Geneva, Switzerland, in early June 2015, is evidently an impossible task. Accordingly, what follows is a subjective and partial report of my personal experience.
With my PhD project, provisionally entitled Apocaphilia Now?, I pursue pressing research questions at the intersection of religion and climate change discourse. Both religiosity and climate change touch on posthumanism and the posthuman, insofar as they negotiate and call into question the position and role of the anthropos — particularly in the present epoch we refer to as "the Anthropocene." Prior to the conference, my knowledge of the topic was superficial, based on a few central articles I had read in this emergent discourse. Thus, my conference participation committed me to deepen my engagement with posthumanism and perspectives on the posthuman condition — a first benefit. This immersion was facilitated by the well-chosen preparatory readings for the PhD workshops as well as the fact that the abstracts of all the papers were made available in advance of the event. The preceding information as well as the regular announcement on the website and facebook page of the conference really spurred my interest in getting to know the different researchers in this field — particularly my PhD peers. Evidently, the high-profile keynote speakers and senior researchers that the organizers were able to enlist also stimulated my anticipation. Not least of all, I cherished the opportunity to get away from my desk and from working in isolation. The conference allowed me to put myself and my work-in-progress out there by presenting my paper in front of an informed and critical international audience, and to breathe some fresh air, so to speak — to receive feedback, exchange ideas, in short: to be inspired.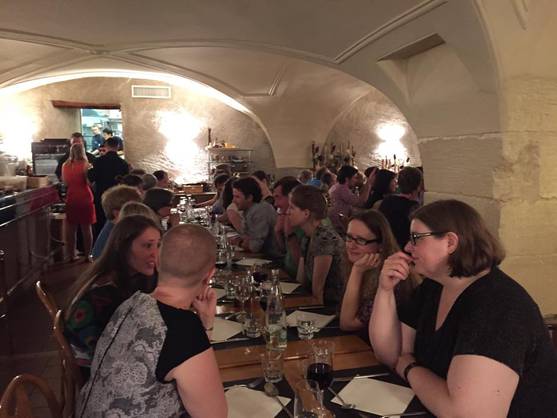 My expectations were met by the terrific organization team, particularly by the local peers Kimberly Frohreich and Bryn Skibo-Birney, who went to great lengths to host a memorable event: They had secured a wonderful and central venue, splendid food, a lovely conference dinner, and were very engaged hosts (even staying on and helping to retrieve locked-up luggage, for example) throughout the conference. But their greatest achievement, of course, was the rich and intensive programme with so many interesting and diverse contributions, far beyond the scope of English Literature and truly interdisciplinary. To name but a few contributions that left a lasting impression on me: Luther Cobbey's (University of Textas at Arlington) endeavour to conceptualize a "Posthumane Ethics" strongly resonated with me; Mica Hilson's (Francis Marion University) critical reading of the figure of the family tree in his paper on "Mom and Dad Can Be Posthuman Too: Remembering Babylon, Social Dawkinsism, and the Politics of the Family Tree," and its mechanisms of in- and exclusion opened my eyes with regard to a certain familial biopolitics at work in specific metaphors and figurations; Sean McCorry's (University of Sheffield) contribution, entitled "Taxonomic Violence, Finite Bodies: The Species Problem and the Ethics of Killing in Conservationist Biopolitics," reminded me of the tensions surrounding pre- and conservationism and added new perspectives on them; Viola Marchi's (University of Bern) contemplation on "Impersonal Existence" almost blew my mind with its strong case for "Rethinking Agency and Responsibility Beyond the Person", as the subtitle put it; finally, Hannah Stark's (University of Tasmania) genre examination of "Neohumanism in the Anthropocene" intrigued me by casting the Anthropocene as genre-generating and really made me want to watch Jim Jarmusch's Only Lovers Left Alive.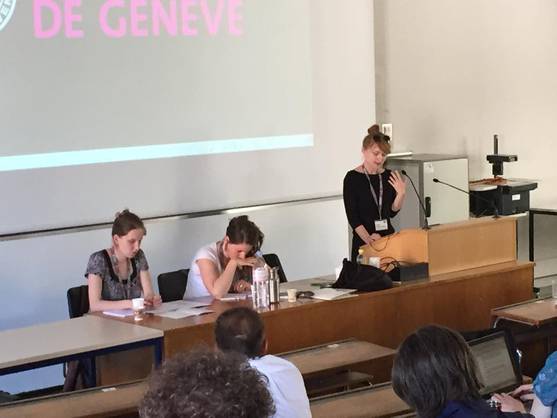 Unfortunately, as always with parallel panels, one cannot attend all the papers that sound promising. That there were ample opportunities to get into conversation by allotting enough time for coffee and lunch breaks, made up for that to a certain extent though. Also, not having met my co-panelists Fani Cettel (Central European University Budapest) & Maris Sormus (Talinn University) prior to our panel on Environmental (Post)humanities, I was surprised how much common ground we had and how well our papers fitted together around animism as the red thread — another indication of the care with which the conference was organized and the papers grouped. I greatly enjoyed delivering my paper on Gaia as a posthuman figure of contemporary ecology and received valuable feedback regarding the pitfalls of remaining within a 'Western' framework when negotiating both humanism and posthumanism as well as the curious resurgent importance of parental figures such as Mother Earth.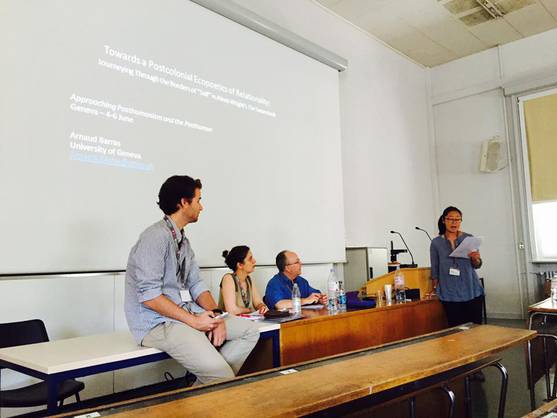 Another source of great inspiration were the four keynote lectures, to me, as a posthumanism-rookie, in particular Stefan Herbrechter's inquiry into "Posthumanist Literature?" that provided a thorough overview of the field since its beginning some 30 years ago. It made the very valuable and important distinction between "the posthuman" as a literary and cultural figure and "posthumanist" as a theoretical approach that is precisely critical of the tendency in popular culture to imagine "the posthuman" as almost inclusively in technology-determined ways as a cyborg (part human, part machine).
The lecture of the eminent posthumanist scholar Cary Wolfe created an awareness of the very important contribution of artists to posthumanist discourse and to the political and ethical implications on a local and global scale of working through the negative legacy and positive potential of humanism.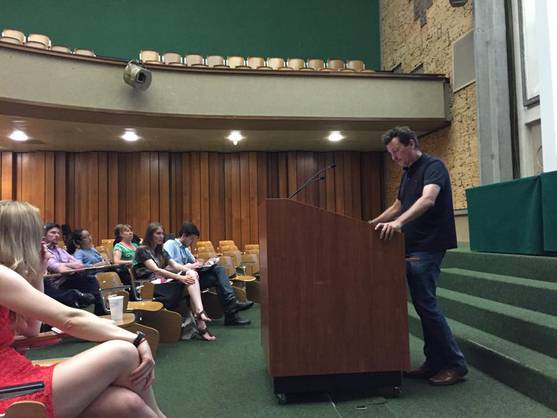 Jeffrey Cohen's performance was impressive not least because in his very poetic deliverance, he enacted a style of thinking and speaking about our posthuman past, present and future that signals how posthumanism also changes the pedagogy within the humanities. Not least of all, Margrit Shildrick's presentation demonstrated that the natural sciences, especially biology, and nonhuman lives are rich sources of metaphors and paradigms to be enlisted for feminist and queer practices in philosophy/theory, cultural production and social theory.
It was a wonderful privilege to have these keynote speakers hold workshops for us PhD students on the last day of the conference. These workshops were particularly valuable as they provided an opportunity for all the doctoral candidates to come and work together. Thus, for example, we were able to discuss academic work on posthumanism in a more general sense with Jeffrey Cohen, who (in a true posthumanist vein) strongly suggested collaborative work and enlightened us with regard to its highs and lows. Also Stefan Herbrechter's workshop on posthumanist literature was very practical, enticing us to try and read as and for posthuman(ist)s.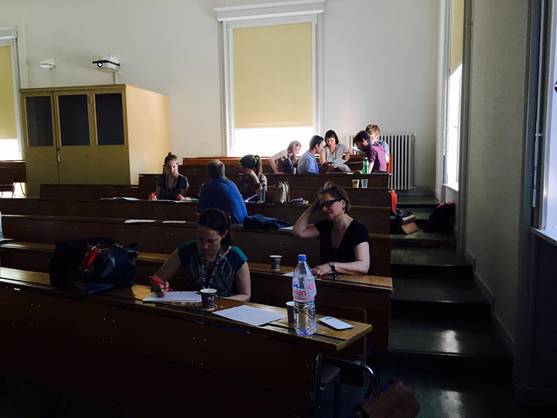 The common work enabled by these workshops facilitated a deeper meeting of PhD minds with senior ones. I found it especially rewarding to thereby get to know not only international students, but also other Swiss doctoral candidates, particularly across the 'Röstigraben.'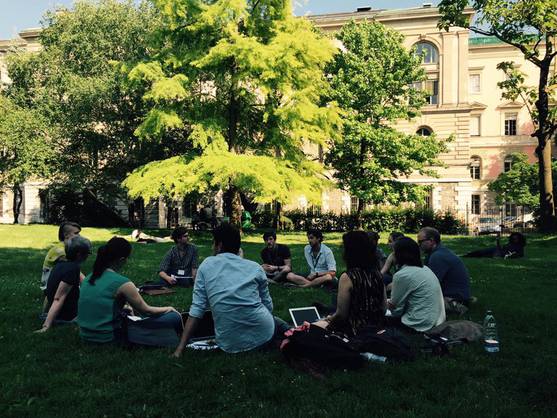 Offering the opportunity to network in these multiple ways, the conference opened up perspectives beyond the event itself — of personal exchange, of exchange via the facebook group, and of publishing, as many of the present senior researchers are also editors in the field: Karen Raber (University of Mississipi), suggested the publication of conference proceedings within her new book series with Routledge entitled Perspectives on the Non-Human in Literature and Culture. Moreover, I was personally encouraged to submit my manuscript for consideration with the Brill monograph series Critical Posthumanisms, edited by guest professor Stefan Herbrechter (with Ivan Callus), who is also my second PhD supervisor, and with conference organizer Manuela Rossini as an editorial board member of the series.
All in all, it was a thoroughly pleasant and intellectually rewarding experience to have been able to participate in such an inspiring gathering dedicated to discussion about the vibrant field of posthumanism, which can be perceived as a new paradigm that is not 'only' restricted to Science Fiction or technological-progressive transhumanism, but that opens up new possibilities for thought on a high number of relevant and pressing issues, such as the current ecological crisis — a true chance for the humanities to contribute to the scientific and social 'grand challenges' of today's brave new world.
Lausanne, February 14-15, 2013: "Gothic/Fantasy Figures of Race, Nation or Postcolonialism" - a report by Kimberly Frohreich, University of Geneva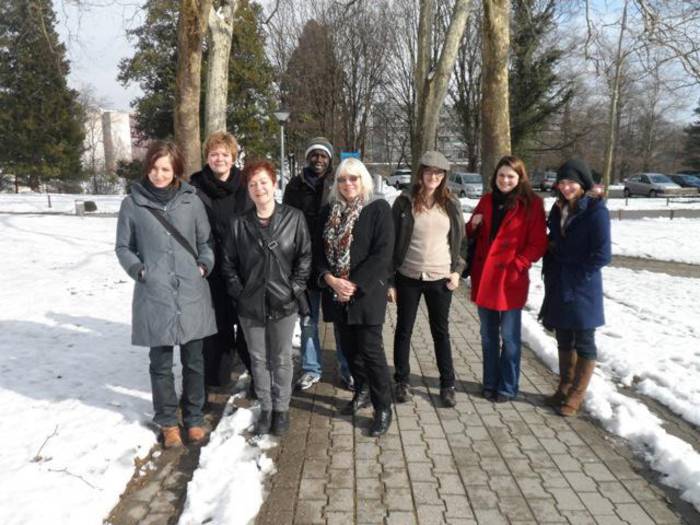 The "Gothic/Fantasy" conference and doctoral workshop offered a day and a half of stimulating and diverse lectures and discussions that ranged from the 18th century to the contemporary gothic, from British to African-American and Afro-Caribbean gothic writers, and to the gothic in American television. In addition, workshop participants were able to reflect and receive advice not only on their individual projects, but also regarding the PhD writing process as a whole. The conference took place in Anthropole 5071 at the University of Lausanne which was ideal for both the lectures and roundtable discussions. Our group of professors and students moved easily from coffee in the cafeteria downstairs, to lunch at the campus restaurant and dinner in town, where we enjoyed being able to continue to ask questions and expand on the ideas evoked in the classroom.
The conference started with a plenary lecture given by Dr. Linnie Blake, entitled "All Hell Breaks Loose: Supernatural, Gothic, Neoliberalism and the American Self." Dr. Blake argues that the contemporary understanding of "nation" is constructed through an attempt to collectively heal from a traumatic event, but then reproduces trauma through nation-building discourses that exclude, isolate, and silence those that are not considered as part of the collective and national identity. Using the example of the television series, Supernatural, she demonstrated how American television adopts the gothic genre in order to expose the fracturing capacities of neoliberalism and corporate America through the series' depiction of characters with unstable, fluid, multiplicitous, and heterogenous identities and bodies. Her talk provoked a profound discussion regarding popular culture in relation to the gothic and their potentially subversive versus normative tendencies. The second day began with Prof. Gina Wisker's plenary lecture: "'Read it in the spirit of breaking the rules': African American and postcolonial Gothic/fantasy – Toni Morrison's Beloved and Nalo Hopkinson's Skin Folk stories." Professor Wisker started by encouraging us to think about how the gothic/fantasy is the medium par excellence in which hegemony can be questioned, confronted, and destabilized. She then discussed Morrison's and Hopkinson's use of the gothic and science fiction to point to racism, silenced (hi)stories, and repressive identity categories. Prof. Wisker then led a workshop, "Conceptual threshold crossings, learning leaps and achieving the doctorate: insights from research and practice," based on another area of her research regarding strategies and tools for writing a successful dissertation. She asked each of us to think about and discuss the moments when we felt that we'd crossed a "threshold", what this meant for the project and what the environmental factors were that contributed to the breakthrough.
The conference ended with the presentation and discussion of five doctoral projects. Students were then able to receive valuable feedback from the two visiting scholars. François Tine discussed his progress in defining the theoretical framework of his thesis on the gothic and trauma in Toni Morrison's fiction by focusing on the trope of the absent mother. Joanne Chassot, in the final stages of her thesis on the figure of the ghost in African American and Afro-Caribbean contemporary novels, talked with the guests about issues and elements that should be included in her introduction. For my project on allegories of race and race relations in modern and contemporary fantasy literature and media, I chose to share some of the questions and concerns I am currently confronting in dealing with popular culture and racial representation. Marie Waltz then presented her project on the intertextual relationships between Edmund Spenser's The Faerie Queene and Angela Carter's The Blood Chamber and Other Stories in order to consider the ways in which each text can illuminate the reading of the other. And Sean Reynolds presented a chapter of his thesis in which he discusses the figure of the ghost, the voice of the deceased Spanish poet Federico Garcia Lorca, that appears in Jack Spicer's translation of his work, After Lorca. Dr. Blake and Prof. Wisker not only provided us all with valuable comments and thought-provoking questions, but they also very kindly agreed to stay an hour or so longer than was planned in order to give each of us enough time to present and discuss our work! All in all, the "Gothic/Fantasy" conference and workshop was extremely rewarding in two respects: for thinking about the development of the gothic genre through time, across mediums and cultures, and the way it relates to the questioning and destabilization of identity and nation; and for pinpointing strategies that will continually assist each of the participants in the research and writing of their dissertations. A big thank you to the organizers: Agnieszka Soltysik and Joanne Chassot!
Brienz, September 7–9, 2012: CUSO Workshop "New Aesthetic Paradigms"
A report by Christian Hänggi, University of Basel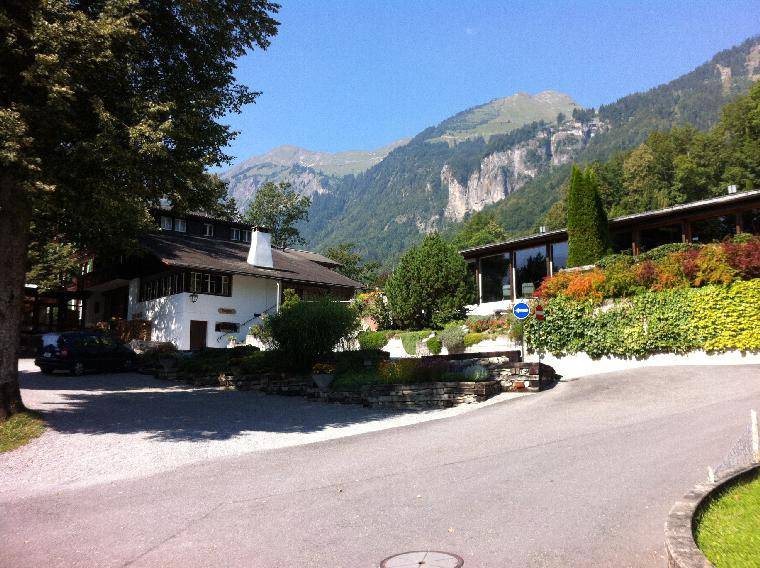 The spectacular surroundings of Brienz in the Bernese Oberland provided an ideal backdrop for three days of intensive discussions about aesthetics. The towering peaks of the Bernese Alps would have brought to mind Kant's and Adorno's writings even if they hadn't been on the reading list. Though seemingly naturally and harmoniously aligned along the horizon for our delectation, the mountains are also a looming threat as Brienz experienced in 2005, when over night streams turned into torrents and crushed buildings, cars, and people.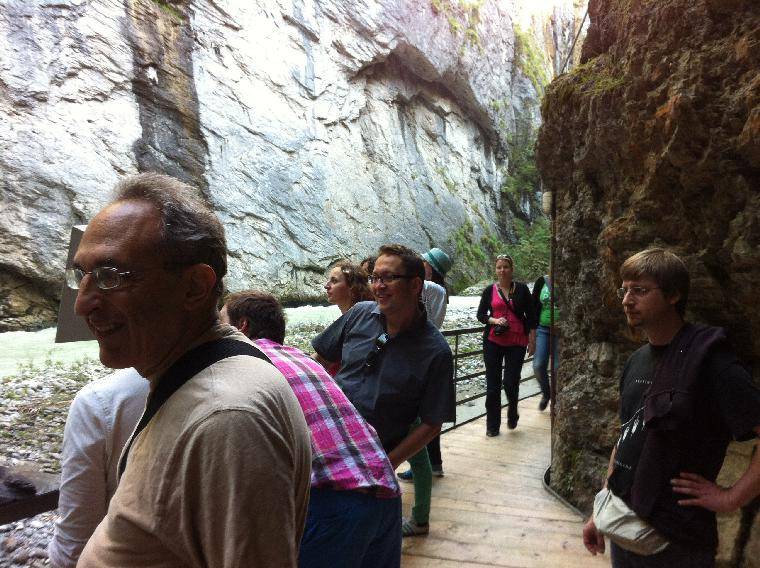 In his workshop seminar, Stewart Martin talked about art and the subsumption of life in Adorno. Drawing on Marx, he opened by stating that life has been subsumed by capital and has thus lost its autonomy, but that the aspiration for something which cannot be subsumed still prevails. Labor, in this view, would be a means to serve life as an end. If beauty is self-affection that makes us feel alive, it is thus to be sought in the realm of life. Steven Shaviro introduced us to the thoughts of Speculative Realism and its diverse proponents (Meillasoux, Brassier, Grant, Harman) whose main point of contact seems to be a critique of Kant's "correlationism," a newly coined term which stands for the idea that we cannot make statements about the world without taking into account that we are apprehending it. Shaviro also drew on Whitehead who he felt had a lot of answers to this pre-Kantian turn that would allow for an aesthetics as something ontological and not necessarily human. In his response, Thomas Claviez voiced some of the concerns he had with Stewart Martin's and Steven Shaviro's presentations, in particular concerning the sublime, the beautiful, and the question of purpose. He felt that purpose – namely that the sublime has no purpose – was not adequately addressed and that it remained open what would happen if the overcoming or the resolution of the sublime by reason did not take place.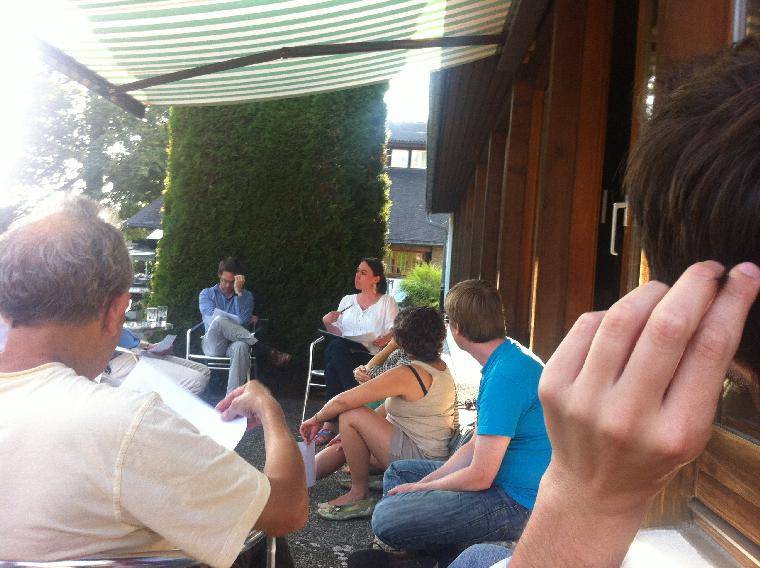 In between those stimulating presentations, the PhD students were given the opportunity to present their work in progress. Ridvan Askin introduced us to his concept of differential narratology, making Deleuze fertile for a reading of contemporary literature. Andreas Hägler – to whose organizational talent and considerable effort the success of the workshop can be credited (along with Ridvan Askin and Philipp Schweighauser's) – investigates through Adorno's spectacles the status of contemporary literature and experimental writing aiming to come to a more differentiated notion than what is provided in much of today's polemic discourse on the topic. Christian Hänggi presented some preliminary thoughts on his dissertation on how Thomas Pynchon deals with sound, music, noise, and silence. Samira Lütscher turned to the poetry of Edward Sapir, Ruth Fulton Benedict, and Margaret Mead, which, as her preliminary thesis has it, explores notions that were relevant to their anthropological work. Rachel Nisbet looked at modern river narratives to examine the relationship between the river and environmental consciousness. Constanze Schellow noted that the current discourse on modern dance centres around ideas of negativity and absence and wants to shed light on the interaction between the aesthetic and theoretical praxis in choreography and dance studies. Sean Reynolds presented his project on homophonic translations, which he studies with recourse to translation theory (esp. Walter Benjamin) and trauma discourse.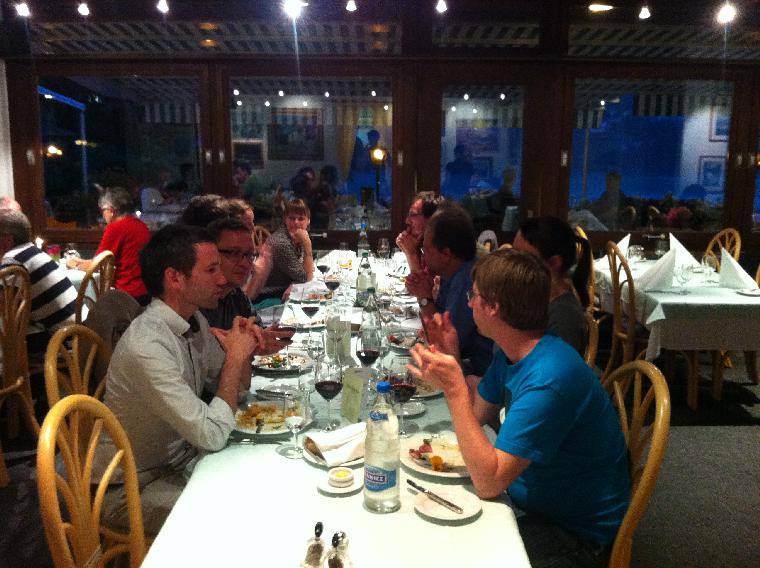 Even though the workshop was far too short to probe in full depth all the preparatory readings, there was more than enough skillfully prepared food for thought on aesthetics, encompassing not only literature but also poetry, sound art, and dance. The resulting discussions and feedbacks should prove to be highly generative for everyone who had the good luck to attend.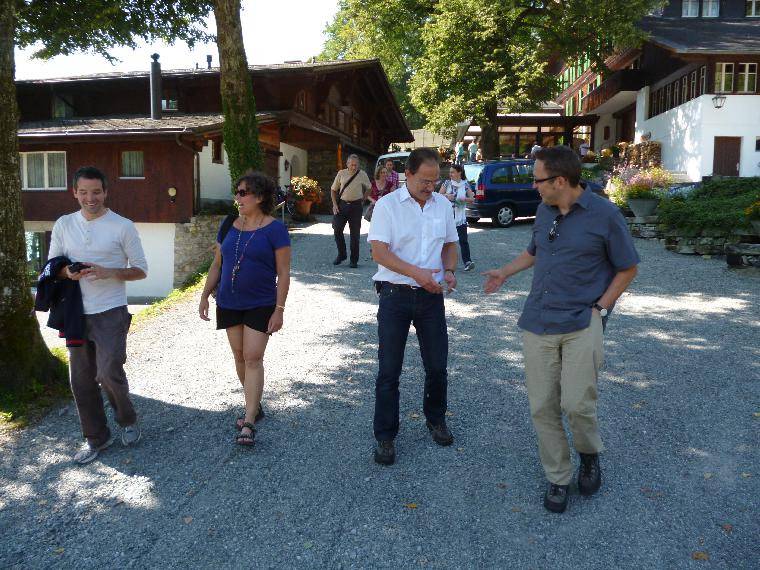 Crêt-Bérard, March 22-23, 2012: "Aesthetics and Politics; Or, What's Entitled to be Beautiful Today?" A report by Ola Madhour, University of Fribourg.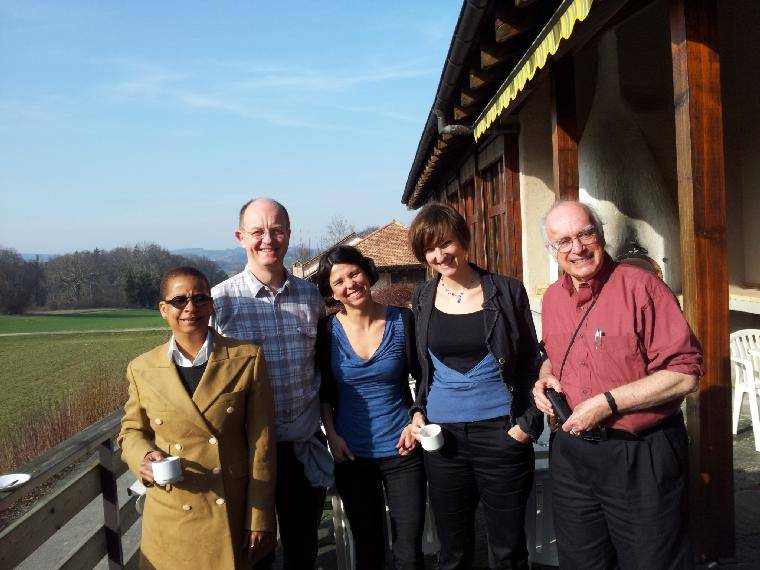 "Simplify, simplify." The picturesque and rustic Crêt-Bérard—from which the railroad was barely visible—offered an ideal setting for examining the relationship between art and socio-political life and considering the myriad ways in which the aesthetic and political draw from each other: a critical subject matter that event organizers Prof. Thomas Austenfeld (University of Fribourg) and Prof. Boris Vejdovsky (University of Lausanne) brought to our attention through a workshop that promised to maintain our spirit of discovery and enrich our experience. The wealth of the material explored during the two days was striking, especially as regards the various fields of research presented by both our guest speakers and PhD candidates, including of course the enlightening discussions which took place subsequently. The conference began with a thought-provoking presentation by Prof. John Antonakis (University of Lausanne). Antonakis identified the art of leadership in particular through the lens of social influence and offered illustrations of charismatic leadership tactics. Prof. Mounira Soliman (University of Cairo) spoke boldly of the significant presence of American discourse during the 2011-2012 Egyptian Revolution, highlighting both its reception through different modes of artistic representations (songs, graffiti, etc.) as well as discussing the shifting power blocks and the implications of the conflicted behavior of the representatives of U.S. foreign policy during the revolution. Prof. Sharon Holland (Duke University) provided a searching and meditative talk associating the notions of "Blackness," "Human," and "Animal." Referring back to vast philosophical concepts including by Heidegger, Levinas and Derrida, she evoked central and complex questions about the identification of beauty, the definition of racism, the nature of the self's relationship with the other as well as the link between politics and mastery. Prof. Paul Lauter (Trinity College) concluded our workshop with a compound presentation on the notion of immigration viewed from a specific theoretical perspective, drawing from a paradigm shift provoked by the passage from multiculturalism to immigration, and inviting us to ponder issues such of globalization, unsettlement, identity and citizenship.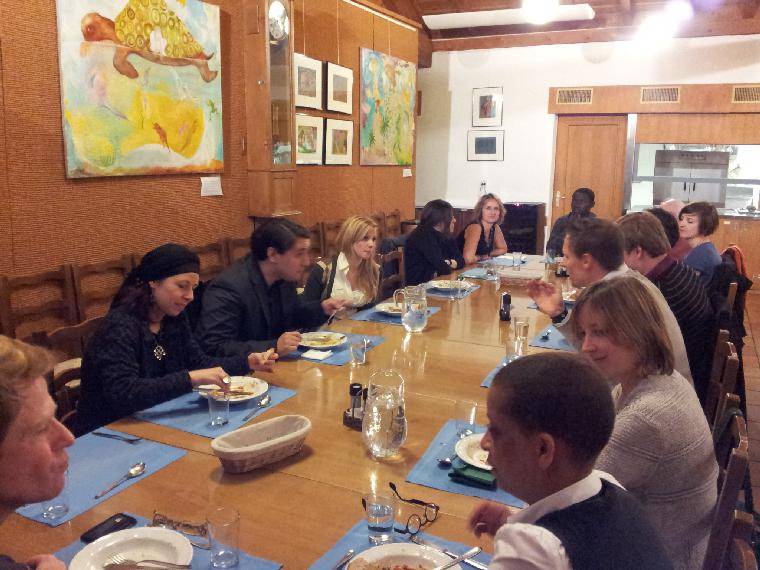 In-between these inspiring talks, seven PhD candidates had the opportunity to present their ongoing projects, encompassing a wide range of research fields: Irmtraud Huber explores a specific, more pragmatic use of the fantastic, mostly in selected American texts; Isis Giraldo investigates configurations of female identity in contemporary Colombian popular culture through various modes of representation and especially by focusing on discourse analysis; Joanne Chassot examines the figure of the ghost in particular as a deconstructionist trope and a trope for the past in selected African American and Afro-Caribbean texts; Martin Moling turns to rock music in American fiction and explores the ways in which rock may reconcile with or simultaneously oppose postmodern simulation; François Dassise investigates magical realism and aspects of the gothic in selected novels by Toni Morrison; Kimberly Gaydon investigates contemporary fantasy literature and media and the way "sub-human" or "non-human" characters are used to explore several sensitive issues (racism, multiculturalism, etc.) while arguing that legal and medical discourse has retained the fantasy of race; finally, I introduced a comparative study between Elizabeth Bishop and poets of the Beat Generation, intending to redefine Bishop's place in American literary history though the use of Beat philosophy. Dynamic discussions and reflections followed every presentation as renowned scholars, PhD candidates and future PhD candidates offered feedback and suggestions that were often prolonged over meal times. Indeed the conference was a success, and despite the occasional mystification due to the complexity of the material explored, my fellow students and I left with a challenged creative thinking and an increased knowledge, gaining new interests and ideas for future research and reading.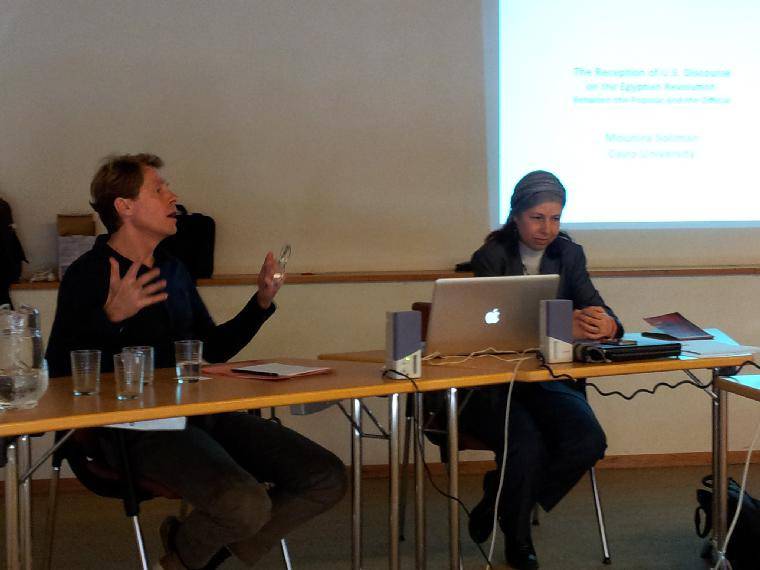 Geneva, 2-3 December, 2011: "Designing the Body: Interdisciplinary Approaches to Fashion" - a report by Sarah Brazil, University of Geneva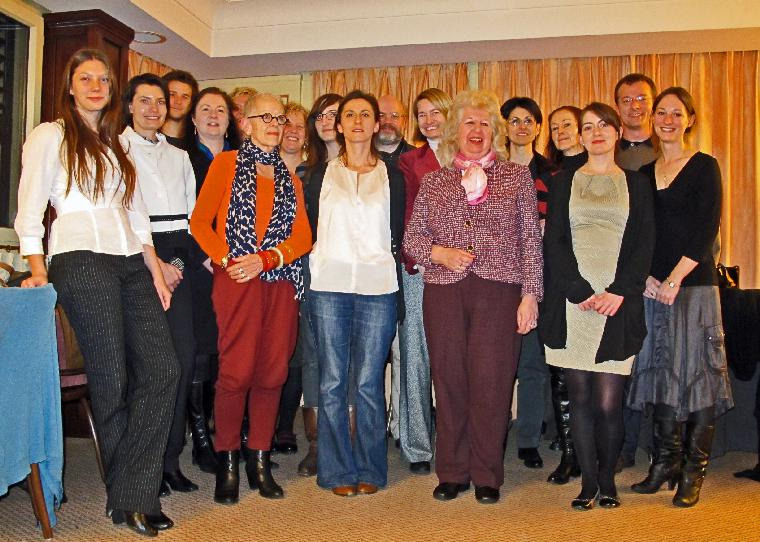 With interdisciplinarity as the key aim of this event, Professors Guillemette Bolens (Medieval Literature) and Deborah Madsen (American literature) of the University of Geneva organised a CUSO conference with quite an amenable topic to this: Designing the Body: Interdisciplinary approaches to Fashion. Taking place in Geneva on December 2&3, the stimulating aspect of this conference came from the vastly different perspectives being offered, with invited speakers Prof. Gale Owen-Crocker from the University of Manchester providing an archaeological reading of Anglo-Saxon clothing, while Prof. Elizabeth Wilson from the London School of Fashion presented a more theoretical position on the history of fashion.

Professor Owen-Crocker got things started on Friday morning with a lecture on the momentous achievement that she and a few colleagues have recently achieved: "Compiling the Encyclopaedia of Medieval Textiles of the British Isles: Sources and their Limitations". Firstly discussing the problems involved with getting such a work published, finding the right scholars to do the job, and the obstacles that historical sources provide, Prof. Owen-Crocker gave us the inside on the forthcoming encyclopaedia which premises interdisciplinary approaches to clothing as a vital aspect of its compilation. We then moved on to the workshop led by Prof. Owen Crocker, "Dressing the Dead: Reconstructing Clothing from Grave-Goods" in which we discussed the grave finds of Anglo Saxons, and queried if it was possible to know how people dressed in their everyday life when we only have evidence from how they were dressed in death.

Three papers followed in the afternoon, with myself and Petya Ivanova continuing on in a medieval vein. I spoke about how to identify a knight in literary texts, noting the difficulty often deliberately provided by clothing and armour. Petya spoke on how fashioned 'nude' body of lady Bertilak is used in the Middle English poem Sir Gawain and the Green Knight to test the hero's courtesy, and explored this through a kinaesthetic perspective. Anna Iatsenko then bridged the gap between medieval and modern with ease, speaking about the omnipresence of clothing in Toni Morrison's novels as well as the significance of nudity as a means of conveying loss in works such as Jazz, Beloved and Love.

With a foot firmly in the modern, we began Saturday morning with a lecture from Prof. Wilson entitled "Fashion Theory Since the 1970s", sketching out the beginnings of a long-neglected discipline, and the role that her own polemic Adorned in Dreams: Fashion and Modernity played in inciting debate between theoretical approaches and the costume historians who work with the materials themselves. Interesting conversations ensued, and we explored the reasons why fashion was so slow to emerge as a discipline in its own right, as well as the ways in which fashion is and has been often used as a scapegoat for societal ills, once again bridging the past and present.

Three more papers were delivered in the afternoon, with Arnaud Barras outlining the differing uses of clothing in Rudy Wiebe's A Discovery of Strangers as being either sociocultural markers or homeostatic tools, and proffered that there was a reconciliation achieved between these two opposing uses and ideologies of clothing by English explorers and native Tetsot'ine hunter-gatherers in the Artic coast of modern day Canada. Michael Röösli's paper ventured a reading of Chuck Palahniuk's novel Invisible Monsters through the lens of Foucault's notion of "technologies of the self" in order to investigate a contradiction between two dominant discourses in consumer society: on the one hand, there is a glorification of the self and its difference from the masses, and on the other hand, the very goal of being fashionable is to belong to a community, which is paradoxically to be achieved through mass-produced commodities. Kimberly Gaydon then finished proceedings with a genealogy of vampire fangs and their uses in British and American literature and cinema, arguing that it is the fangs of the vampire which define both the body of the vampire, and vampirism itself.

Discussion then had to be resumed over dinner, and our reflections on the past two days were greatly aided by good food and copious wine, continuing long into the night.
Zurich, June 17-19, 2011: "The Violence of Aesthetics - The Aesthetics of Violence" – a report by Michael Röösli, University of Geneva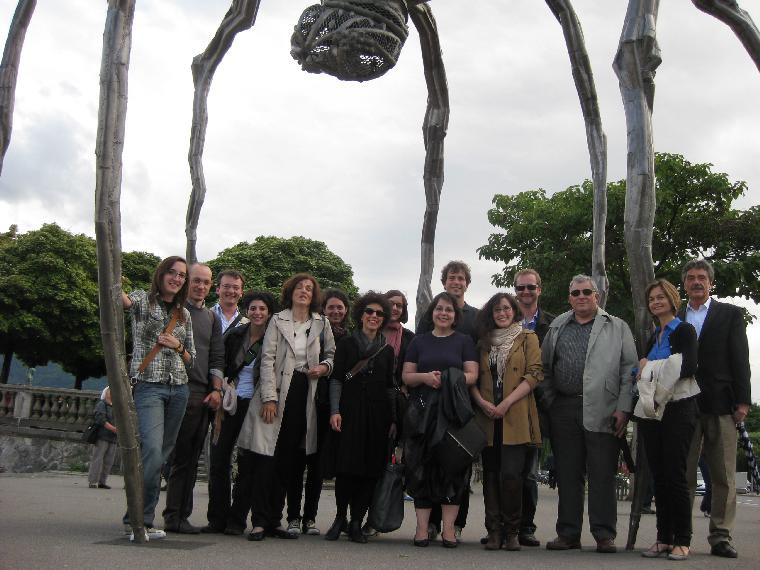 Prof. Elisabeth Bronfen (University of Zurich) and Prof. Margaret Tudeau-Clayton (University of Neuchâtel) co-organised the most recent conference of the CUSO doctoral programme for English language and literature. An unusually large number of students attended, and the lively exchanges as well as the buoyant atmosphereclearly indicated that the event was a great success.
The lecture by Prof. John Drakakis (University of Stirling) inaugurated the proceedings on Friday afternoon, confronting the group with a multitude of manifestations of violence. The presentation traced issues such as enjoyment, theatricality, and Dionysian creativity across Renaissance plays (such as The Revenger's Tragedy and King Lear) but also in non-fictional texts. An animated discussion ensued, which showed to what extent the talk had resonated with a great variety of research fields. The debate also spilled over into our contemporary mediascape, setting the early modern texts alongside cinema, wrestling and other cultural practices.
On Saturday, Prof. Andreas Höfele (University of Munich) examined the power relationships between people and sovereigns in the early modern period, paying particular attention to the issues of violence in representation and the public/private distinction in cases of executions. In the afternoon, Prof. Garrett Stewart (University of Iowa) initiated the contemporary part of the conference by taking a closer look at conceptual and epistemological violence. With a rich slide show of 'book sculptures' and their ways of questioning media boundaries or fetishisation of the book, he set out a framework which he then used for a close reading of Toni Morrison's novel Jazz and its negotiations between the textual space of the novel and the 'spatial text' that its reader occupies. In his workshop, Garrett Stewart used extracts from recent American war films, which confront the increasingly 'framed' and recorded (e.g. by mobile phones) experience of violence with an emergent digital cinematic paradigm. On Sunday morning, Dr. Bran Nicol (University of Portsmouth) looked at the genre of crime fiction as a form of seduction (borrowing this term in its not necessarily erotic definition from Baudrillard). Violence here emerged as a matter of an open aesthetic of a text (its productivity as opposed to its mere consumption) but also in terms of the contexts of a reading (what exactly distinguishes a lover from a stalker?).
Even the bad weather could do not dampen the relaxed atmosphere and exchanges among the workshop participants - be it during the discussions, over the wonderful meals, a night cap, or after a Hitchcock screening. The workshops themselves were also full of great moments and performances - for instance Prof. Höfele's meditation on what he declared the 'tea-cup style' of holding guns in earlier westerns (shooting from the hip), and the subsequent transformations of this cinematic code…. I also remember Saturday morning when Matthias and I were discussing on the tram to the English Department how we use violence in our own respective projects, when we suddenly realised the dead silence on the tram, and the somewhat strange stares of the other passengers. But I'm sure that not only the population of Zurich, but all doctoral students who attended the conference will remember the great event, their impressions and new ideas for a long time to come!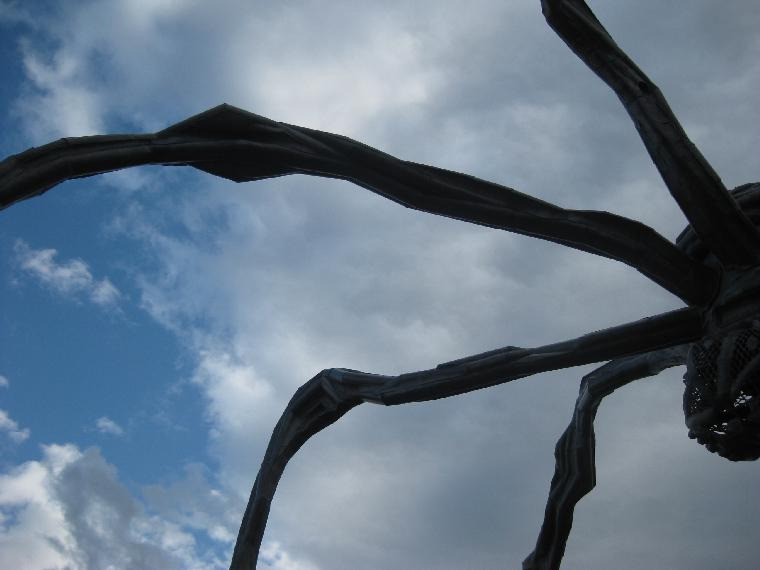 Crêt-Bérard, March 4-5, 2011: "Literature and Altered States" – a report by Joanne Chassot & Juliette Vuille, University of Lausanne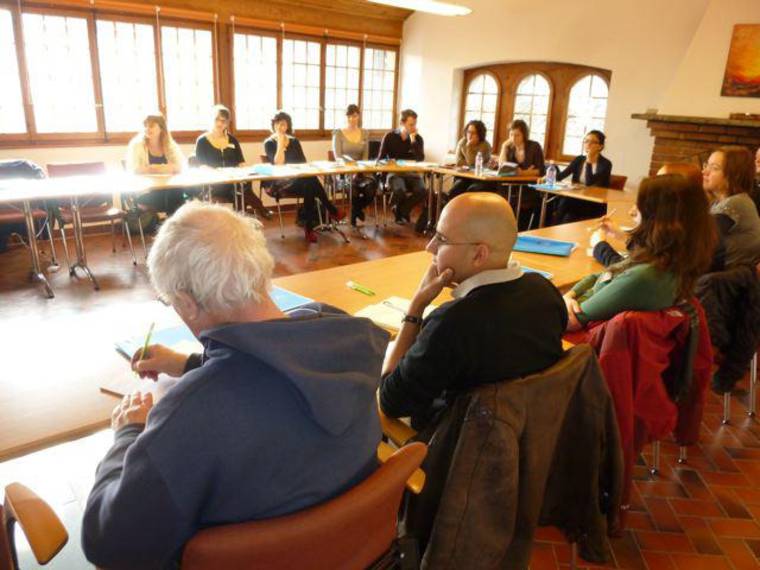 Profs Agnieszka Soltysik (American Literature) and Denis Renevey (Medieval English Lit.) undertook the bold project to organise a doctoral workshop that would bridge the temporal, cultural and conceptual gap between their respective fields. This workshop, entitled "Literature and Altered States of Consciousness" succeeded in unexpected and stimulating ways. The papers, workshops and meal-time discussions revealed several concepts which could be used to think about "Altered States" in any time period, such as "mimesis," "altered state and creativity," "questions of authorship and altered state," "repetition inducing trance in medieval liturgy and contemporary poetry."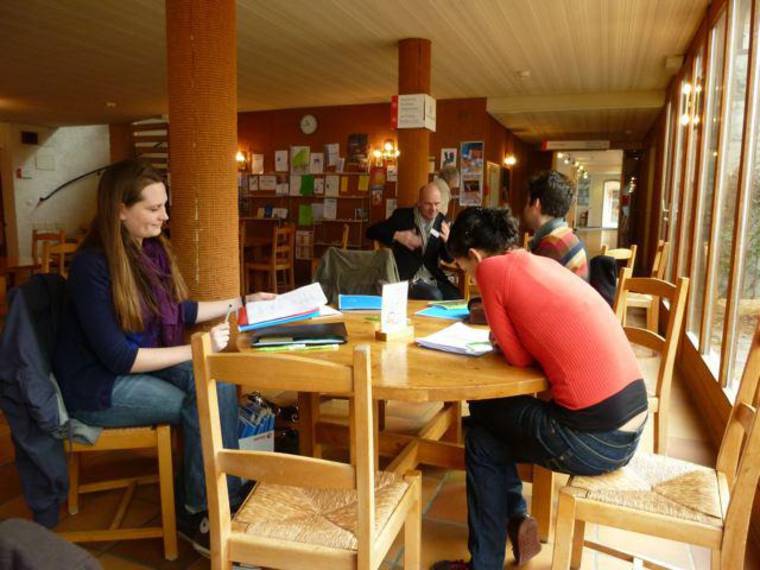 What quickly struck most of the participants was the interdisciplinary nature of the workshop, both in terms of the speakers' diverse fields of research and in terms of the discussions that took place. The keynote speakers, coming respectively from neuroscience, theology and literature, offered three very different but complementary definitions of the notion of "altered states of consciousness." Dr. Christian Lüscher (University of Geneva) presented his research on the neuro-chemistry of addiction and memory, and invited us to discuss if and how drugs of abuse (i.e. non-medically prescribed drugs) enhance creativity. Prof. Amy Hollywood (Harvard Divinity School) argued that in the medieval period, the Benedictine rule, which rendered every action a ritual action, was vital for the development of Christian mysticism, so that the constant repetition of psalms and prayers - someone else's words - could paradoxically lead one to reach a very individualized "altered state" of communion with the divine. Prof. Marcus Boon (York University) offered a wide overview of the relationship between drugs and literature (which he, as the very last speaker, adapted to better echo and build on the previous discussions), which he completed with a more detailed look at the Beats. While most of the other speakers came from the field of literature, their papers and the discussions that followed also repeatedly took us into the not-so-distant territories of theory, philosophy, history and psychology.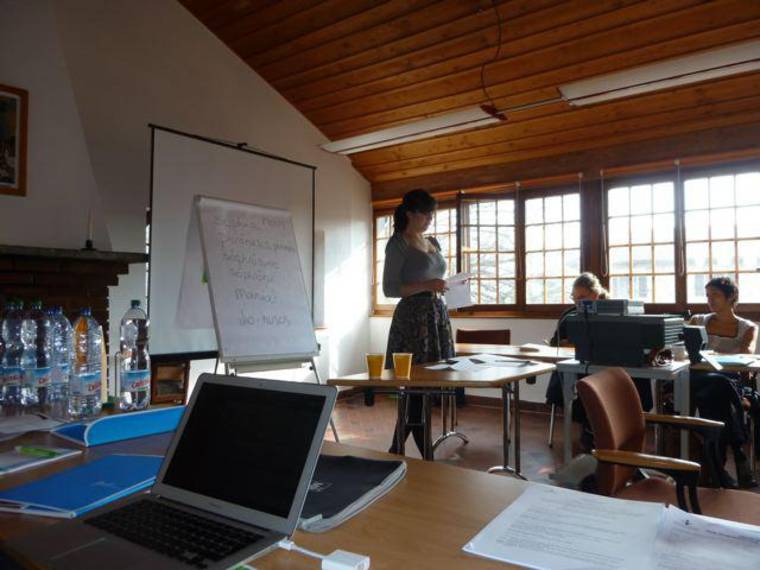 The great variety in the subjects presented in the other papers (half of which were offered by doctoral students), showed that the topic lends itself to rich and varied theoretical, historical and artistic treatments and can stimulate fruitful reflections about literature. These included discussions of the notion of mania in the theatre (Nidesh Lawtoo; Roelof Overmeer, Sarah-Jane Moloney and Michael Gröneberg), a mapping of Thomas De Quincey's opium-induced "mental landscape" (Markus Iseli), and two critical discussions of modern readings of medieval instances of altered states (namely the "ecstasy" and superhuman force of the Berserker warriors in Viking Sagas [Roberto Biolzi] and the "madness" of female mystics [Juliette Vuille]) that echoed each other nicely. The three workshops were the occasion for making more connections. The first one, which followed Dr. Lüscher's talk, was the opportunity for the literature people to eagerly ask all kinds of science-related questions, many of which the neuroscientist admitted he could not answer because they were way out of his field, permitting the attendants to realise the difference in outlook and method between literary and scientific scholars. The workshops with Amy Hollywood and Marcus Boon were restricted to doctoral and enthusiastic MA students which allowed for an informal and probably slightly less intimidating discussion. Prof. Hollywood's workshop, in particular, enabled students to draw enlightening parallels between practices of "altered states" in the medieval period and in contemporary poets, such as the comparable "collage" of psalms in Bernard of Clairvaux' Sermon on the Song of Songs and the literal "collage" of archival records of Susan Howe, and how these practices signify differently in the context of medieval and contemporary authorship. Prof. Boon's workshop, on the other hand, compared and contrasted two contemporary poems and the discussion yielded interesting conclusions in the ways that the poems reflected two different outlooks on "altered states" and drug use which corresponded to two different moments of the Beat movement. It was a nice opportunity to read and try to make sense together of some difficult texts.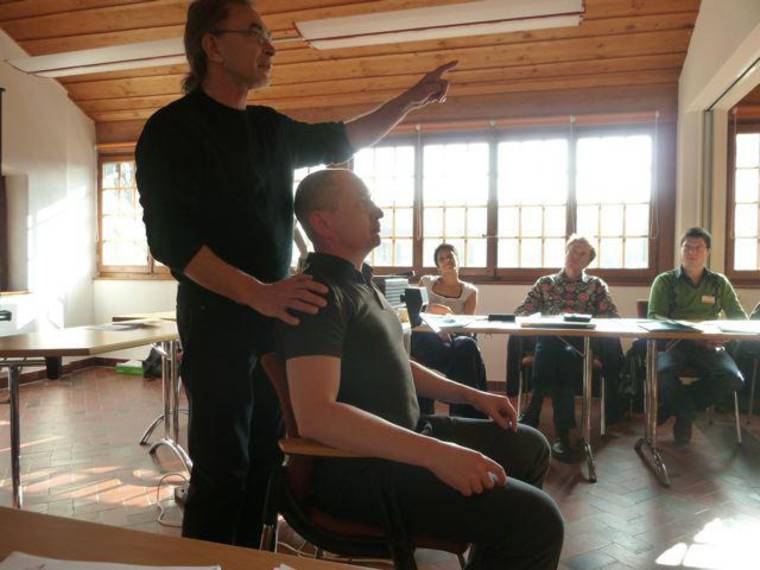 In his closing remarks, Prof. Renevey said that the two days had "altered" him, and that conferences are maybe the way for scholars to reach other states of consciousness that can stimulate their creativity. I (Joanne Chassot) often find myself frustrated and confused at the end of conferences and doctoral workshops, especially those that seem to me to be far from my own research interests. I approached this one as a tourist, with little expectation and no pressure to learn anything useful for my PhD project. I left with new interests and ideas for future reading, teaching and research. For my part (Juliette Vuille), this doctoral workshop gave me the opportunity to present a paper on an aspect of medieval mysticism that had always fascinated me, but which lay outside of my thesis' purview. The guest speakers were outstanding academics, and the fact that this was a doctoral workshop permitted much more interaction and fruitful discussions than would have happened in a conference environment. Finally, I learned a lot from the papers and workshops on contemporary American poetic movements, a subject on which I was utterly ignorant in the past, and the topical focus of the conference provided for very dynamic discussions and reflections.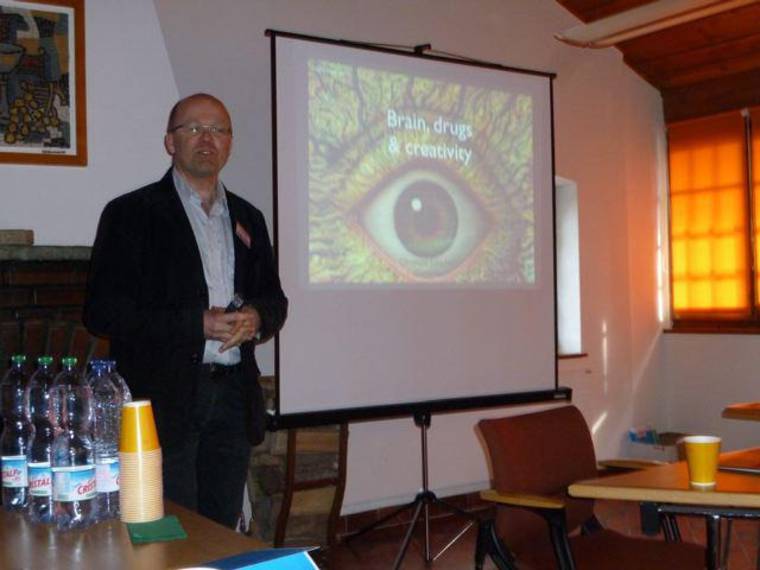 Geneva, October 1-2, 2010: "Material Texts: Means and Conditions of Publication and Reception" - a report by Arnaud Barras (pictures: Michael Röösli)
What role does the physical object of the book play in the construction of meaning? What is the future of the physical book, of reading and of research since the advent of electronic media? These are the questions that the English Language and Literature Doctoral School of the Conférence Universitaire de Suisse
Occidentale tackled during the first weekend of October 2010
Those whose primary subject of interest is not the material text may wonder why to attend such a conference. Taking a look a the prestigious keynote speakers might have decided me to rush there: Professors Peter McDonald and Kathryn Sutherland are both from the University of Oxford and Professor David McKitterick is from the University of Cambridge. No question here, the materiality of texts is a fashionable topic of research! However, to me, it is not the craze about material texts that comes to mind while answering the question 'How did I end up in this conference?' Rather, the answer becomes clear as soon as one understands that the material text is at least as important as the linguistic text in creating meaning; it therefore cannot be overlooked, but it should rather be taken as another perspective with which one can make sense of literary texts. It is a question of admitting that the text was produced, distributed and read in a certain media, and that this media is crucial in the transmission of meaning. The type of paper and ink, the format, the presupposed and aimed at audience, the publisher, the seller; from production to reception, the very materiality of the text is undeniable. How then should scholars integrate this materiality in their analyses of texts? I think that for literary scholars, the historical aspect of the materiality of texts in itself is not what matters the most. What is interesting, however is to link the material text to the analysis of the written text. As scholars relate the form of the discourse to the topic treated, why not relate the materiality of the text to its content and textual form? Moreover, materiality allows the scholar to speak of the contexts of production and reception of the text, something impossible if one considers the text as purely linguistic. In that sense, materiality is the bridge that connects author, text and reader. If one is aware of that, one's analysis will only get richer. The other question raised by the conference was 'What is the future of texts, research and reading?' To me, the topic is not closed, and I must admit that the conference did not fully satisfy my need for answers. Indeed, predictions are always sketchy, and questions remain where answers should be. For instance, will the electronic media completely overcome the material book? Will non-digitized texts fall into the penumbra of literary and popular reading? What will happen to texts in case of our digital world collapsing? Fear and anxiety were expressed, especially by those to whom the material text is the basis of literary analysis. For me, on the contrary (is it because I was born and raised in the digital era?), questioning the future of books is not tainted with anxious pessimism, but rather with overt excitement: I would love to see the institutions that throve on restricting access to texts be overthrown by the digital media. In a sense, it is the power of the internet to enable universal access; yet it is also its main flaw. How is one supposed to make sense of such a flow of information? Are extremist discourses not revived by the chaos that reigns on the web? Or more optimistically, does the internet presuppose one's responsibility in producing and receiving texts; and if it does not, does it create responsibility? These questions are worth asking, and can be asked only if one considers the text in its whole, that is as much materially as linguistically.
Saturday afternoon, after the conference and before the visit to the Fondation Bodmer As can be seen, the conference really made me receptive to the importance of materiality; it also made me think about issues of preservation of our cultural patrimony. This would not have been possible without the superb organizational work of Dr. Erzsi Kukorelly. Not only did the conference provide interesting talks by experts on the materiality of texts, but the workshops were also heated and passionate. This conviviality, which was reinforced during coffee and lunch breaks, was crucial in order for us to talk freely about controversial topics such as the primacy of literary text over material text, or the taking over of electronic media. Moreover, the conference offered a visit to the Fondation Bodmer, whose fantastic collection reveals the majesty and almost supernatural essence of material books. A conference on the materiality of texts could not have skipped the contemplation of one of the best collection of rare books in the world. The CUSO conference on the material text was therefore an interesting introduction to the importance of materiality in literary studies; it also inspired all of the participants to think more about what books are, and how new electronic media might change our way of reading and doing research.
We walked back from the Fondation Bodmer. Geneva was at its best!
---------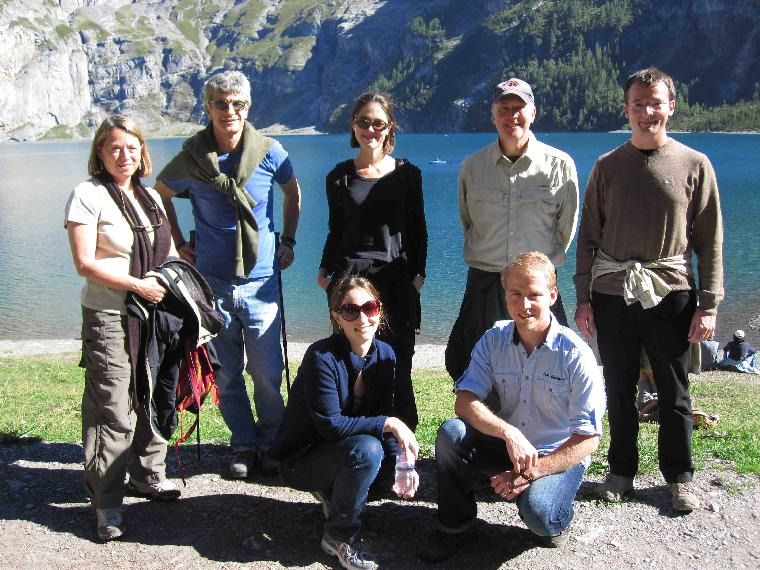 Kandersteg, September 9-11, 2010: "Literature and the Other Arts" - a report by Michael Röösli, University of Geneva (pictures: Clark Hulse & Massimo Bacigalupo) The CUSO module on "Literature and the Other Arts" immediately attracted my attention, since my own PhD thesis focuses to a large extent on how we read visual and verbal texts. Two days in wonderful Kandersteg, offering a variety of perspectives on what I had so far struggled with in my own way seemed like a great opportunity. However, while my own concern with the topic was very immediate, I was curious about how it might contribute to the work and research of my fellow-students.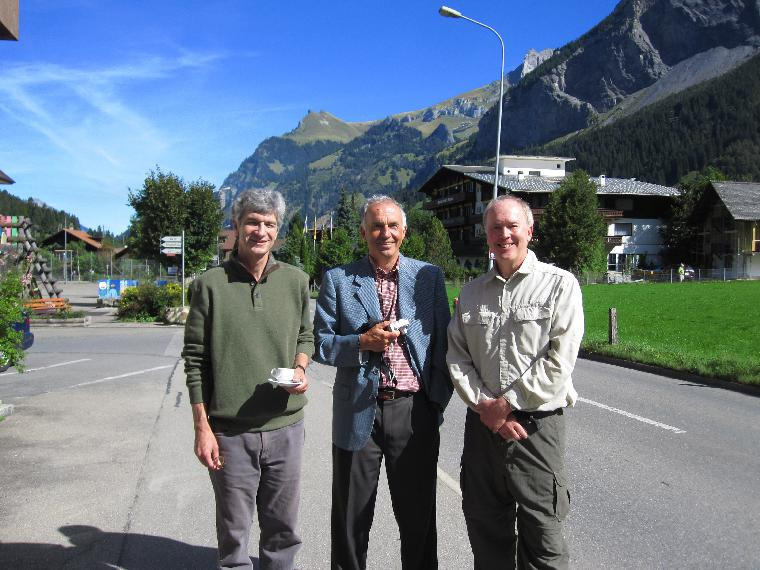 Three seminars approached literature and its relationship to other arts. Prof. David Spurr from the University of Geneva (who was also the organiser of the conference) started his presentation by evoking various epistemological boundaries traditionally erected between visual and verbal texts. Immediately, a wealth of responses opposed these distinctions (and also clashed among each other). It was impressive to see in what unexpected and yet crucial ways each student's research project seemed affected by this issue. Prof. Spurr then offered a glance at a variety of intermedial collaborations in an ekphrastic context. Prof. Clarke Hulse from the University of Illinois at Chicago approached the topic through a re-reading of Lessing's Laokoön: he traced a theoretical gray-zone in the text which he then invested with the issue of framing in favour of a different approach that revived Lessing and his seemingly outdated status in the present theoretical landscape. Finally, Prof. Massimo Bacigalupo from Genoa University paid a visit to a variety of crucial sources on media potentials, including Mario Praz' take on traditional systems of periodisation and the media interactions that they cover (in both senses of the term).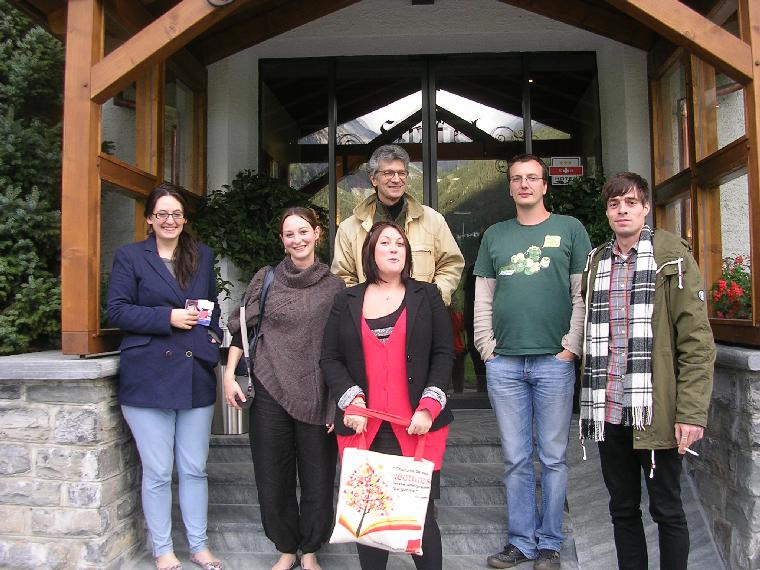 These seminars were followed by sessions in which students presented their thesis projects. The keynote speakers' fields of expertise frequently intersected with the various projects and led to specific feedback. More importantly, however, they provided very pragmatic suggestions related to the scope and strategies of the individual projects, and also to their position in the current publishing market. I also very much enjoyed getting a closer look at the concerns and projects of my fellow students. It was great to openly discuss, test and exchange ideas which are all too often born and maintained among the solitary walls of the library. The informal setting in the Bernerhof Hotel and the wonderful mountain air and landscape of course contributed to these lively exchanges, and the picturesque setting also offered us the opportunity of a wonderful trip to the Oeschinensee on Saturday afternoon, which rounded off an exciting and memorable weekend.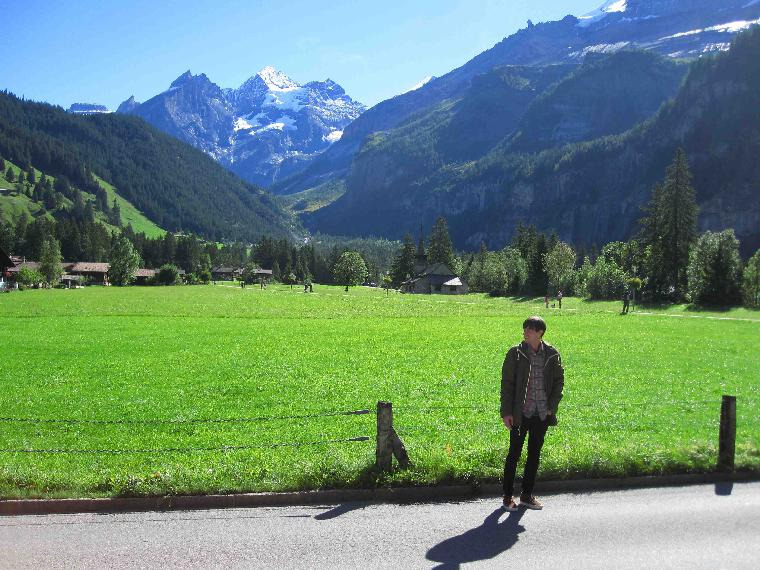 Check our new doctoral reading group meetings here
History module: Literature and the Material Text, Geneva 1-2 October 2010
Invited faculty: David McKitterick, Peter McDonald, Kathryn Sutherland The texts that are studied in departments of English language and literature were initially made public in a specific form, as material artefacts: in long-lasting books, in ephemeral pamphlets or broadsheets, or posted on unstable and unverifiable blogs. The material form of texts is dependent on the historical conditions of their production and consumption. From the early days of print to the internet, the material form in which texts are made available to consumers has influenced their reception through identifiable and sense-producing effects, such as typography, layout, illustrations and paratexts. This Doctoral Programme module intends to foster a greater awareness of such effects and to help students take forms of bibliographic production into consideration during their research.
Over two days, students will participate in a varied and thought-provoking programme, including lectures, papers, seminars led by our guests and feedback sessions on work in progress. We are eager for students whose main approach does NOT focus on the material text to participate in this module, and teaching on offer will reflect this diversity of methodological background. Although the module will not be heavily geared towards giving papers, the programme will include a handful of student papers. Prof. McDonald will give a lecture provisionally entitled: Literature, Institutions and the Question of the Book, and will give a broad-based, interactive and introductory seminar on material textual analysis. Prof. Sutherland will give a lecture provisionally entitled Defining the Material Text in the Digital Age, with a seminar on the same topic. More details & online registration
CUSO 40th Anniversary Prize
Annick Challet, a doctoral student at the University of Geneva, has been awarded the CUSO 40th anniversary prize of Sfr. 5'000 for her project entitled "Of Cannibals and Zombies: The Migration of Caribbean Tropes." The project is based on her thesis, which studies the question of "hybridity" in Caribbean women's writing in English and French.
Reports from the field

University of Basel, 17-18 April 2009: "History: Medieval and Early Modern English Literature and the Question of Periodization" - a report by Emma Depledge, University of Geneva
The doctoral workshop on 'History: Medieval and Early Modern English Literature and the Question of Periodization', organized by Prof. Ina Habermann at the University of Basel from 17-18 April 2009, provided a wonderful opportunity to mix with fellow graduate students whilst enjoying stimulating and thought-provoking discussions.
The two-day workshop began with informal introductions, with each participant identifying the period in which their research lies: 'early modern', 'Jacobean', 'Elizabethan', 'Medieval', 'Renaissance', 'Restoration', and so on. Having confidently catalogued our research, we were then asked to question the labels we had used, along with all that we thought we knew about periodization. Where did these labels come from? Who coined them, and why? When do these periods start and end? Why use labels which describe a monarch's reign? The room was brimming with thoughts and ideas as the workshop leaders, Professor Gordon McMullan (King's College London) and Dr David Matthews (Manchester), guided students of two, now apparently not-so-distinct, disciplines on an exciting journey of discovery.
The second stage of the workshop involved students introducing their thesis topics and argument to the other participants, without the aid of notes or prompts. Those still in the process of defining their thesis topic received a noticeable confidence boost as they realized how much material they did have and how interested their audience was in what they had to say. The more advanced students were treated to a mini-viva, and a chance to see their topic through the eyes of others. I know that I am not the only one who left the room feeling revitalized and extremely grateful for suggestions which would help me to write a better thesis.
As advertised, the workshop enabled us to consider both 'Medieval' and 'early modern' texts in the context of periodization, and I was delighted to get the chance both to study a text which was new to me, Mandeville's Travels, and approach familiar and much loved-texts, such as Shakespeare's King Lear and the anonymous play, King Leir, from a new angle. The sense of isolation which comes with writing a PhD seemed a million miles away as we were unified by our passion for these wonderful texts, with Mandeville experts infecting new comers with their enthusiasm, and the King Lear club helping to guide virgins through the confusing world of Quarto and Folio variants.
The event was rounded off by fascinating key-note lectures from David Matthews and Gordon McMullan, prompting yet more enthusiastic discussion of the issues raised during the workshop. That the event was so pleasurable is surely down to the excellent choice of workshop leaders, and the beautiful setting and warm hospitality of the University of Basel. All in all, I found this to be a very rewarding experience, which enriched my doctoral work while allowing me to network and socialize with fellow doctoral students over a glass of wine or two.
Sils-Maria, 31 August - 3 September 2009: "Theory: Genealogies and Modern Literary Theory" - a report by Julianna Bark, University of Geneva
What does your personal landscape of theory look like? Mine isn't very hospitable, I'm afraid. The landscape I imagine is a kind of post-nuclear wasteland. Its colors are slate grey and airforce blue. Its climate is cold and damp there is an atmosphere of impending disaster. The prospect of engaging in literary theory had always seemed to me rather bleak for one reason or another, and I have always seen waging war on theory as the more attractive way out. As David Simpson explained to me during the course of the workshop at Sils, my anti-theory stance – and the post-nuclear landscape associated with it – could be explained by the fact that I attended graduate school in the United States. "Theory is not something Americans do because it is not American." he said. He may be right. I recently spent six years in New York, where I recently completed a dissertation in art history, under the supervision of the late Robert Rosenblum, whose erudition and "common sense" approach to art always seemed to me infinitely superior to any theory that could be applied to it. This die-hard formalist way of doing scholarship seemed retrograde to most of my peers. To me, it only seemed legitimate. Also, since it was recognized as retrograde it felt transgressive and new in some bizarre way, and I liked that.
Now that I am back in the Old World, perhaps my views of theory will gain in moderation. Certainly this is the direction in which the CUSO workshop I attended in Sils Maria pointed me. Under the aegis of David Simpson, Peter de Bolla, Simon Swift and David Spurr, the question of theory took on a kind of urgency. Simon Swift pressed us to see the violence encoded within the concept of enlightenment. David Simpson spoke of the fetishism lurking in the work of Marx, Freud, Lacan and Cixous. Peter de Bolla urged us all to take a stand for our aesthetic judgments. David Spurr demonstrated the centrality of Hegel in the way we think about the arts today. As conversation on all of these topics ensued, it became clear that the more we talked the less we agreed. Assertions like "I think my Kant disagrees with your Kant" (Simon Swift) multiplied. At the end of the day it seemed that if we agreed on anything at all it was that it might be more conducive to misunderstand (and mistranslate) theory than it is to do otherwise, as our misreading will give someone else down the road the chance to say something new. The question of theory's usefulness was brought up time and time again, as was the problem of multiplicity of theories. How do we explain that theories have emerged in recent years with the breathtaking pace of ever-changing fashions? Food for thought indeed.
While I'm not sure about how much theory I will make use of in my new dissertation in early modern literature, the effects of this workshop were immensely stimulating. Largely this was thanks to the professors present – the four mentioned above were joined by Thomas Austenfeld and Margaret Tudeau-Clayton – who were so generous in providing us with the consolation of their advice and guidance. Anyone in need of a sounding board to their unresolved dissertation-writing issues – no matter how post-nuclear and hopeless these may seem – should not give it a moment's hesitation, they should plan on attending the next CUSO event.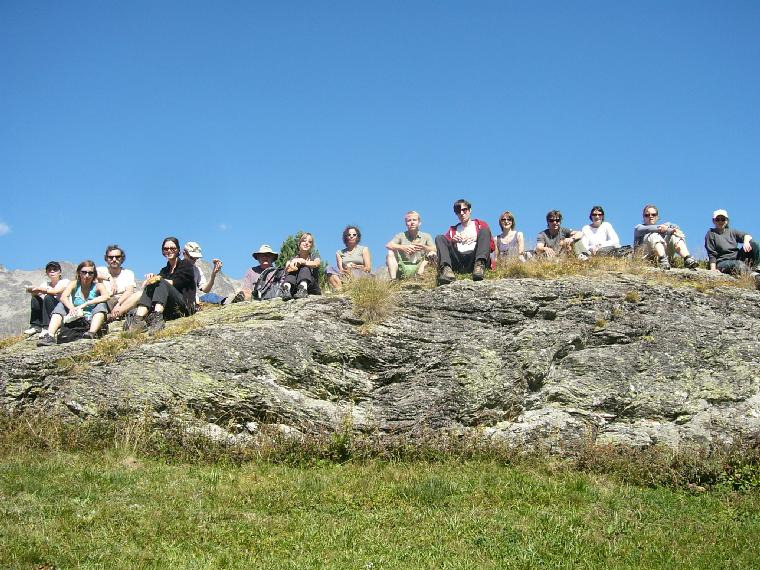 Pictures - copyright Prof. Patrick Vincent